The week of August 12th was another busy one for the Greater Memphis Chamber. We visited kicked off our Taking it to the Street initiative in Orange Mound, celebrated ten outstanding young professionals in our city at the Young Memphis Awards, held our first Women's Business Council group meeting and our President and CEO Beverly Robertson gave our Young Professionals Council a behind the scenes look at how the Chamber works. Find out more in this weekly recap.
Taking it to the Streets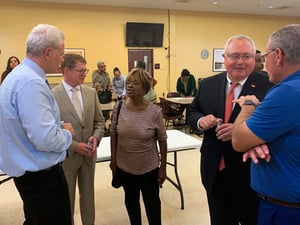 Last week the Chamber kicked off its Taking it to the Streets initiative, a campaign aimed to educate the community about the Chamber's work and the positive impacts of economic development for communities across the city. The first session was held at the Orange Mound Community Center.
During the meeting, Chamber President & CEO explained how tax incentives are used to attract jobs, touted the UpSkill 901 Career Fair (October 30th) and shared a variety of free training programs that could connect Orange Mound residents to job opportunities.
To learn more about Taking it to the Streets click here or read more about the Orange Mound Kickoff here.
Young Memphis Award Reception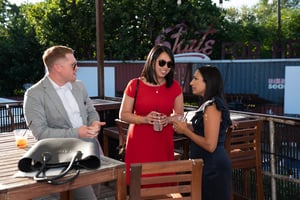 This week we celebrated our Young Memphis honorees with a reception at Railgarten. Chamber Chair Richard Smith was on hand to thank these young professionals for their investment in Memphis and to encourage them to continue to spread the word that Memphis is a great place to start and grow a career.
Read more about the event and get to know the Young Memphis Class of 2019 here.
Special thanks to LSI Graphics for sponsoring this year's Young Memphis Awards.
Women's Business Council Meeting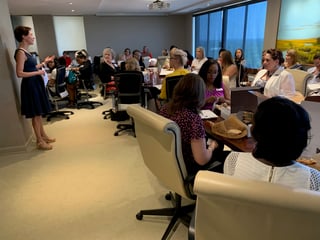 The Women's Business Council held its first "Focus Session" last week.
The topic, Collaborative Business, was identified by council members as a key issue for discussion. Jenny Koltnow, Director of Communications & Development for Church Health, led the conversation. Jenny encouraged the women present to look beyond what and who they know and to focus on ideal partners that can help move their efforts forward.
Hosted by Independent Bank, a group of 50 business women were in attendance.
Learn more about the Women's Business Council here.
Soundcheck corner office with Beverly Robertson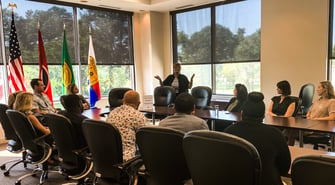 The Chamber's Soundcheck Young Professionals Council got a behind-the-scenes look at the Chamber as ourown President was this month's Corner Office Host. Attendees had the opportunity to hear more about Beverly's journey to President & CEO of the Greater Memphis Chamber as well as learn more about the Chamber's work and how they can continue to plug in to the city and the organization.
The next two Corner Office events are:
September 25 | Corner Office with Frank Ricks, LRK
November 14 | Corner Office with Jennifer Hobson, Hobson Realtors
Soundcheck Corner Office is an exclusive benefit for Soundcheck members. Interested in joining Soundcheck? Click here to learn more.
---
Want to learn more about upcoming Chamber events? Check out the Chamber event calendar or sign up for our Monday Morning Message eblast for free.