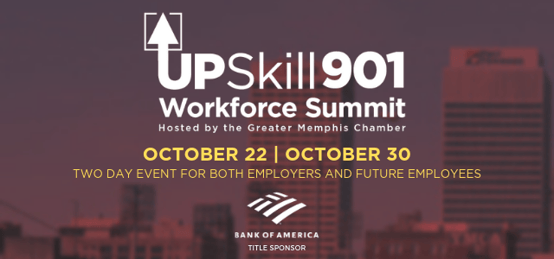 Day one of the inaugural UpSkill 901 Workforce Summit brought together participants from across the Memphis workforce ecosystem in a day-long kickoff event featuring speakers and panelists with expertise in various sectors of the workforce and talent development industry.
"The event's goal was to kickstart an initiative to upskill 10,000 for the future workforce by connecting employable individuals with job and skills training programs that can get them into higher-paying positions," said Beverly Robertson, President and CEO of the Greater Memphis Chamber.
The day kicked off with a welcome video from Chamber Chair Richard Smith and included a keynote address from Brookings Institution Senior Fellow and Policy Director Mark Muro. Muro delivered insights regarding Automation, artificial intelligence and how technology will impact the local workforce moving forward.
Click here to read more on the recap of the 2019 summit.
---
Day two of the 2019 UpSkill 901 Workforce Summit included a Career Fair that took place on October 30, 2019 at the Pipkin Building in Tiger Lane. Over 60 companies participated in the career fair.
Participating companies with open positions and currently hiring included:
Alsco
Amazon
Atlantic Track
AT&T
Baptist Memorial Health Care
Barr Brands International
C. Foster Construction
City of Memphis
Code Crew
Core Civic

Dot Transpiration
Elvis Presley Enterprise
FedEx
Hino Motors Manufacturing
Hire Memphis
KPower Global Logistics
McKesson
Memphis Electrical JATC
Memphis Light Gas and Water

Natureplex LLC Pharmaceuticals
Nike
Olymbec USA LLC
Pandrol USA
Regional One Hospital
Riviana Foods
Technicolor
Teleflex Inc.
Tennessee Valley Authority
The J. M. Smucker Company
Vitalant
The day also featured service providers and community based organizations providing clinics and onsite registration for job seekers. Some of those programs included:
BARRIERS-TO-EMPLOYMENT CLINICS

Amnesty Program
- Expungement
- Driver's License
Federal Bonding

ON-SITE REGISTRATION FOR PROGRAMS

American Job Centers
Training Programs
Social Services (Veterans, Dept. of Human Services, AARP, etc.)

INDIVIDUAL ENHANCEMENT

Resume Assistance
Haircuts

BILLION DOLLAR CHALLENGE SUCCESS STORIES
---
Chamber President & memphis pastors speak on 2019 upskill901
2019 upskill901 sponsors
Title Sponsor:


---
Gold Sponsor:




---
Silver Sponsor:

---
Platinum Sponsors:






For more information about this event contact Sondra Howell.