Last week the Chamber's Young Professionals Council (YPC), held its first Corner Office Series with speakers Duncan Williams and David Scully. YPC, previously known as SoundCheck, aims to equip the next generation of Memphis Business leaders with the connections and knowledge needed to expand into leadership roles in the community.
The Corner Office Series allows young professionals the opportunity to learn new skills and gain insights directly from a company leader. This workshop, led by Duncan Williams of Duncan Williams Asset Management, focused on Personal Finance and Investing.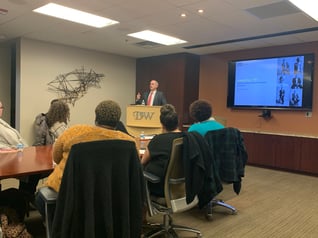 Duncan F. Williams is President of Duncan-Williams, Inc, a full-service broker-dealer with approximately 100 employees. In 2015 he founded Duncan Williams Asset Management in order to meet the needs of individuals, company retirement plans, and nonprofit groups. The company is 100% locally owned, operated, and dedicated to serving the Memphis community.
During the workshop Williams discussed his career journey and enlightened the young professionals about the 5 L's of Leadership: Listen, Learn, Live, Loyalty and Love.
"learning never stops being important"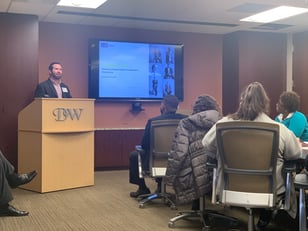 After Williams, David Scully, President and Chief Investment Officer of Duncan Williams Asset Management took the stage to address the group. Scully who serves as the Treasurer of the University of Memphis Research Foundation Board, continued on to discuss in depth about how to set yourself up for success while also making responsible financial choices.
As a part of an initiative to keep the region's young professionals active and engaged, YPC has partnered with New Memphis to expand the reach of our emerging leaders and expose them to new networks and ways to get involved. Five of the individuals in attendance of the workshop were new to Memphis and a part of New Memphis' Embark program.
---
YPC host monthly events providing our city's future leaders with opportunities to connect with each other and with established business leaders in the area to gain insight and connections that will further their careers, broaden their networks, and prepare them to serve as the next generation of leaders for our community.
Want to a part of the conversation during the next Corner Office Workshop?