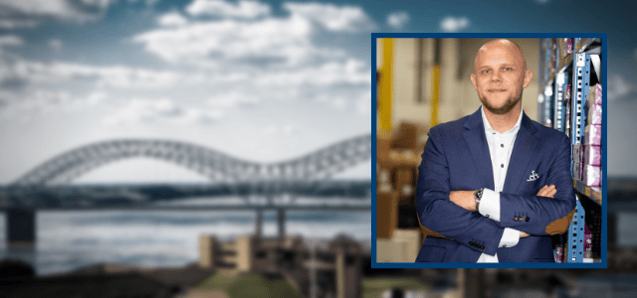 Get to know Sebastiaan de Kok, Vice President of HealthLink International Inc, US Operations and Greater Memphis Chamber 2020 Young Memphis Honoree.
What event or accomplishment has been the most impactful for your career so far?
In 2013 I seized the opportunity to move to the United States and setup a US branch of our then parent company, HealthLink Europe. What started out as a small 2,400 square foot warehouse grew to our current operation with more than 75 team members, in a 108,500 square foot distribution center that fulfills over 150,000 critical medical device shipments each month.
What motivates you to be active in your community or profession?
Nobody who achieves something worthwhile in life gets there alone. In addition to the long hours and significant professional challenges that I have faced over the last decade, I have been very fortunate to have great mentors and outstanding people that have supported me along the way.
I feel obligated to pay it forward and help pave the way for others. That is why I am so honored to serve as council member & mentor for wonderful local organizations like Junior Achievement & STS Enterprise that focus on education, career readiness, and professional development.
Besides wanting to help the younger generation recognize and realize their potential, I currently serve as an Ambassador for the Greater Memphis Chamber. The Chamber welcomed both HealthLink and my family to Memphis with open arms four years ago and played an instrumental role in helping us get established and connected with the business community early on.
What does "being a young professional in Memphis" mean to you?
It means being able to live up to my own potential while at the same time contributing to the growth and development of the city and the Memphis community itself. I've lived in various US and international cities where that work felt mostly done, and it was much harder to stand out and make a positive difference. Memphis seeks out Young Professionals and encourages them to actively take part in building a better and stronger Memphis. There is nowhere better to plant roots and help forge the path toward a better, stronger, more equitable and just tomorrow, than in Memphis, Tennessee.
What do you like about living in Memphis?
I love food, and Memphis has such an eclectic food scene. There are so many good restaurants in Memphis that it's hard to narrow it down, but Owen Brennan's, Andrew Michaels and Moondance Grill definitely make the list.
As far as happy hour spots, Railgarten & Loflin Yard are my favorites. To work off those food & beverage calories, on the weekends I try to hit the mountain bike trails at Shelby Farms or bike/ walk the greenline. And I absolutely can't wait for the Grizzlies to start playing ball again.
What advice do you have for new young professionals interested in starting or building their career in Memphis?
It's very simple; get involved and put in the work. It's probably a cliché, but in Memphis, you're going to get out of your career what you put into it. There are so many opportunities here, and so many organizations aimed at helping young professionals reach their potential. When I moved to Memphis in 2016, I immediately joined the Chamber's Young Professionals Council and started building a network. Through those connections and organizations like New Memphis & Nexus Leaders, I've been able to meet top executives in my industry and surround myself with mentors, friends and fellow YP's, which have all greatly attributed to furthering my career and professional success.
Who do you most admire and why?
My daughter, Chloé. At almost 10 years old, her optimism, kindness and eagerness to learn are an inspiration I draw from every day. Her ability to both sees the world as it currently is, and how it can be, provide hope for a bright future. She is the #1 driver behind my personal and professional ambition to be better.
Where do you see yourself in 10 years?
In the previous 10 years, I have moved 7 times between cities, states and countries so it's a wild guess what the next 10 years will hold! Around this time last year, after being in Memphis for 3+ years, I decided it was time to naturalize and become a citizen. Memphis as a city, and more importantly as a community played a big part in that decision, so I'm planning on being here for the next 10 years. Career wise I'm hoping to continue the growth of HealthLink for the foreseeable future by expanding into a larger, or multiple facilities, and expanding our client base. Its growth potential is incredible, and I owe a lot of my success to the trust and freedom I've been given by my management team. Given the chance, I'd want to maximize its potential over these next 10 years.
What's your favorite thing about being a young professional in Memphis?
The ability to actually be heard and seen. You're able to be part of the conversation and have access to local leadership from fortune 500 companies like FedEx, St. Jude & AutoZone. That's very unique and one of the things I'm still continuously impressed by.
---
Interested in getting plugged in? Learn more about the Chamber's Young Professionals Council here.