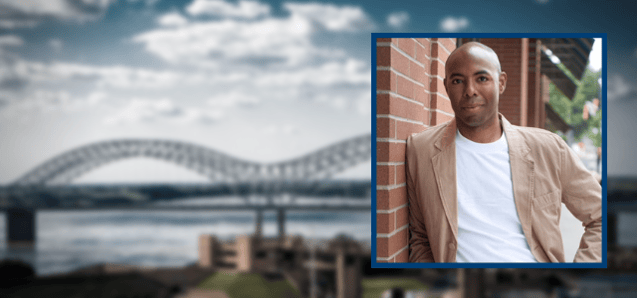 Get to know Marcus Cox, Director of Community Relations for Playhouse on the Square and Greater Memphis Chamber 2020 Young Memphis Honoree.
What event or accomplishment has been the most impactful for your career so far?
I am the most excited now for my role at Playhouse on the Square, connecting our professional and community organizations to our mission of telling the stories that represent the heart and soul of our community. In that role, representation matters. I have recently begun connecting our theatre with theatre programs at Historically Black Colleges and Universities as well and colleges with majority Latinx populations. It is our goal to create pipelines with young professional artists with a worldview that may be different from our own. As a theater charged with telling the story of our community, I want that story to be told in a way that is organic and real.
What motivates you to be active in your community or profession?
No one knows Memphis like Memphians. But at the same time, you hear the best things about Memphis the further away you travel from home. That was the way it was here while I was growing up. I was like many young men and women that, as soon as I could, I left home. While I was away, I was shocked to see how many great cities and towns just didn't have what we have. So, now that I have been home and in my role as an ambassador for the city's largest professional regional theatre company, I feel it a duty everyday to share with others the great thing we have here. The community, the grit, the grind, the fact that we look out for one another. Not just within our arts community but in the city as a whole. I am not naïve to the challenges our city faces. We have work to do. But I have faith in us to see things through.
What does "being a young professional in Memphis" mean to you?
The amazing opportunity to lead our city into its next cycle of life. When you are like me, and you can see where our city has come from and the challenges that we have endured. I am reminded of the shoulders we stand upon. Giants like Dr. Benjamin Hooks, Myron Lowery, Harold Ford, Sr., Ida B. Wells, and others. It energizes me daily to find solutions rather than focus on the problems.
What do you like about living in Memphis?
Well, if I didn't plug my theatre, Playhouse on the Square and our array of 18 shows a year, I would be foolish. Memphis has an amazing arts community. From music to art to theatre and dance. There is nothing you can't see or do here! I love BBQ! I'll leave it at that. I know the friendly fire around where the best is will never end! Working in Overton Square, I am luck to enjoy so much in way of food and entertainment! If you grab a ticket to a show at The Hattiloo Theatre, you're bound to find me in it! I love what Chef English has brought to our city in his activism and culinary mastery. Second Line is a must when family comes to visit. I love a good burger at Huey's and the Butcher Shop. When it's time for a soul food lunch, you can find me at Miss Peggy's or Tam's. The Cooper Young Festival is one of my favorite times of the year. Also, being a member of an arts family, I have family performing live music all across the city nightly and certainly on Sunday morning.
What advice do you have for new young professionals interested in starting or building their career in Memphis?
Do it! There is room for your ideas. There is room for your vision. Simply, there is room for you! There are great mentors and leaders like the GMCC to help you along the way. Memphis has been fertile ground to some of the greatest successes in business, artistry, and community activism for years. We may not get the national or global credit we deserve always. But those who matter know. Tap into the soil; listen to the ancestors that whisper in the wind. Know that you have a place here. There is space for you.
Who do you most admire and why?
My high school principal Mr. Clark White was the principal every TV show tried to create but never got it just right. He was a supportive leader to his students and his faculty. Mr. White encouraged me to appreciate my education and never stop striving to learn all I could. When he spoke to me, I felt like I mattered. When I came to him with things I felt differently about, he listened. He may not have changed his mind. But when I walked away from the conversation, I felt like at least my voice was heard. That was my biggest take away from learning under Mr. White. In my career, being observant and listening to others has always allowed me to make solid decisions.
Where do you see yourself in 10 years?
Continuing to strive to be better than I was the day before. An even more supportive husband and father. At the end of the day, I am still an artist and artists are never satisfied with what they have done and are constantly finding new ways to create and tell the story.
What's your favorite thing about being a young professional in Memphis?
The other young professionals in Memphis. I am so inspired by my friends and colleagues. They are so intelligent and powerful! They are a credit to our city. I am honored to be listed in company with them.
---
Interested in getting plugged in? Learn more about the Chamber's Young Professionals Council here.