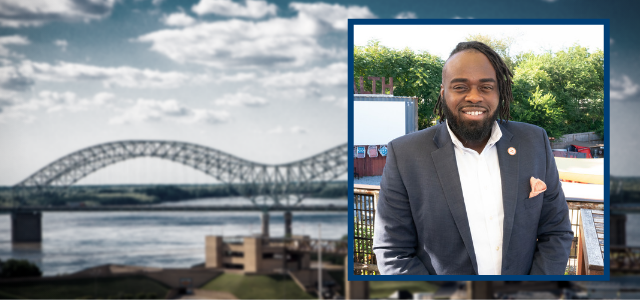 Get to know Joshua Perkins, Advisor, Academic Quality & Accountability at Shelby County Schools and member of the 2019 Young Memphis Class.
What event or accomplishment has been the most impactful for your career so far?
Memphis Urban League Young Professionals winning 2019 Hugh B. Price Chapter of Excellence and me being recognized as Distinguished President of MULYP
What motivates you to be active in your community or profession?
I'm motivated by seeing smiling faces from people who are faced with many adversities. There is no greater feeling than knowing that my work is not in vain. How can I really make a difference if I'm not willing to go into communities with people who look like me. Luke 12:48 says, to whom much is given, much will be required, which provides me with a great deal of motivation. I have been blessed to be placed in a position to create space at the table for those who thought there was no seat for them.
What does being a young professional in Memphis mean to you?
Opportunities. Memphis has the potential to be a progressive city, and I see big things happening here. Millennials are stepping up and demanding a seat. It is an exciting time being a young professional in Memphis as the city is on the brink of major transformation.
What do you like about living in Memphis?
I love the culture here. I am most enamored by the sense of pride in the city—particularly among native Memphians. While millennials are often described as making healthier food choices, Memphis definitely has a variety of cuisines that truly feed the soul. There are so many amazing places to eat here! Some of my favorites are Uncle Lou's, The Wing Factory, Mahogany Memphis, The Choo, Chef Tam's Underground Café, Slice of Soul, Sage, and so many more.
What advice do you have for new young professionals interested in starting or building their career in Memphis?
Always be kind to others, you never know who knows who as Memphis truly has one degree of separation. Memphis has a plethora talented people. I'm seeing more and more people operating in their gifts and ministries, –when you do that, doors of opportunity will surely open. Just follow your heart, believe, practice faith, and put in the work. That combination alone will take you anywhere.
Who do you most admire and why?
I know it's cliché but I admire my mother. She is one of the strongest women I know and she always encourages me no matter what. My mother has never been and will never be slow to provide critical feedback…in whatever form, time or place she chooses…LOL! Even though I may get upset initially, I can't grow if people are always patting me on my back versus the act of correction. My mother always says, "if you be quiet and listen, you can learn something." Over time, I have come to understand what she means. There is always a time to speak and a time to listen. I have to give her credit for always pouring wisdom in my ear. Love you mom!!! Make sure this makes the cut, so when she reads this I can make her smile, because she has made me smile my whole life.
Where do you see yourself in 10 years?
I see myself pouring into the world in some capacity, and being an entrepreneur for sure. Back in March 2019, Memphis caught the eye of Forbes for being a top city for minority-owned businesses—I definitely want to be in that number! Honestly, in 10 years I just want to be happy and healthy.
What's your favorite thing about being a young professional in Memphis?
Being unapologetically black, educated, and confident in my skin. Also, understanding that I have a voice and my words have power only if I use them. My favorite act of servant leadership right now is speaking life into my communities.
---
Interested in getting plugged in? Learn more about the Chamber's Soundcheck Young Professionals Council here.