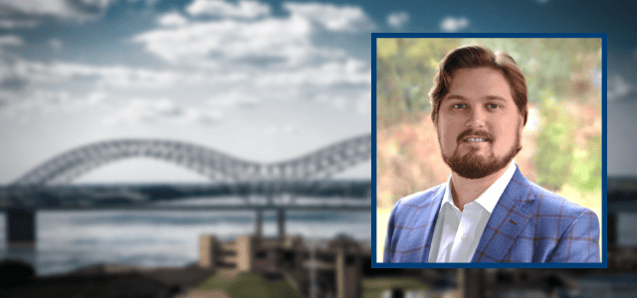 Get to know Jonathan Aur., Commercial Sales & Leasing at Boyle Investment Company and Greater Memphis Chamber 2020 Young Memphis Honoree.
What event or accomplishment has been the most impactful for your career so far?
It definitely has to be the redevelopment of Williamsburg Village, formerly a tired shopping center at Poplar and Mendenhall. Although we are still under construction, we are transforming that area into a beautiful district that Memphians can be proud of, with some of the neatest and most unique tenants in the city.
What motivates you to be active in your community or profession?
Boyle has been very active in our community for almost 90 years. So, being a part of that already established tradition really motivates me to take that involvement and impact to the next level. Also, I have been very fortunate to be surrounded by some amazing people, personally and professionally, that have placed a strong importance on community. They have all influenced me in my career and passion for Memphis and all that it has to offer. I believe it is up to us to be active and make the most of our opportunities.
What does "being a young professional in Memphis" mean to you?
Being a young professional in Memphis means everything to me. The opportunity to make a direct impact on my city, a city that has given me so much, is something that I'm extremely thankful for. There are few places, like Memphis, where young professionals can truly direct momentum and assert change that positively effects their entire city. I believe a lot of it has to do with this incredible moment in time in our city where we are seeing passion and enthusiasm in Memphians to help our city reach its full potential. The timing for all of us, couldn't be more perfect and I'm just thankful and humbled to be a small part of it.
What do you like about living in Memphis?
We are really lucky to live in a city with so much great food and culture. My wife, Brittany, and I try to take full advantage of everything our city has to offer, everything from eating out at great restaurants or riding bikes on the Greenline from one end of the city to the other, to attending concerts at Live at the Garden, or going to a Grizz game. It never fails that there is some festival or live music on the weekends, so there is never a shortage of excitement.
What advice do you have for new young professionals interested in starting or building their career in Memphis?
I truly believe that there is no better place to build a career than Memphis. We have an economy stabilized by some incredible companies and organizations like FedEx, International Paper, St. Jude, etc., with enough upside for the impact of a young professional to be felt immediately. While I am thrilled to receive this honor, there are tons of young professionals in Memphis who are helping to elevate our status on the national level. There is a reason Memphis was named a Top 50 best American cities for starting a business by Inc. Magazine and the 7th best place in the country for planting start-ups according to WalletHub. Lastly, our cost of living doesn't just mean that you can get a way better house than your friends in Nashville for a lot less. It means more money left over for young professionals to invest in other businesses or support amazing causes than our counterparts in other cities.
Who do you most admire and why?
This is a question that I have struggled with the most. I have gone back and forth between a few different people. I'd like to give honorable mention to my parents, who are two of the most selfless people you'll ever meet. In the early 1960's my grandparents, Dr. Rhomes (John) and Celina Aur, moved their family of seven from Brazil to Memphis for my grandfather to be a hematologist-oncologist at St. Jude. They left a comfortable life surrounded by family, to dedicate their lives to finding a cure for childhood cancer. When my grandfather began at St. Jude, the survival rate for lymphocytic leukemia was less than 1%. By the time he retired, the survival rate was closer to 75%. After he retired, he continued to work at St. Jude without pay. My grandfather was a hero in my eyes and in the eyes of many around him. No doubt he wouldn't have been able to achieve any of it without my grandmother by his side.
Where do you see yourself in 10 years?
I hope to be at Boyle Investment Company for a very long time. I am committed to doing all that I can to contribute to Memphis' continued growth. There is no better company to achieve that goal with than Boyle. In 10 years, my hope is that several new projects will be in the works or already completed. We have some awesome plans for our city and I'm thrilled to be part of the team that helps those projects to fruition.
What's your favorite thing about being a young professional in Memphis?
My favorite thing about being a young professional in Memphis is being in Memphis. I love living in one of the most charitable the country. I love living in a city where I am surrounded by people of every background, race, religion, etc. I love living in a city with so much soul, not just in our music but in everything we do. I love living in a city where growth is so evident. And mostly, I love living in a city that loves you back.
---
Interested in getting plugged in? Learn more about the Chamber's Soundcheck Young Professionals Council here.