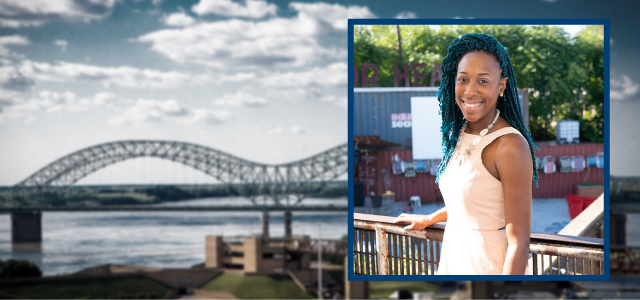 Get to know Young Memphis Honoree Jade Clark, Director of Value Chain Ventures at AgLaunch.

What event or accomplishment has been the most impactful for your career so far?
Starting my nonprofit, Project Fresh, has been the most impactful accomplishment for my career. Growing up in Orange Mound and Whitehaven, I never planned to be a food scientist. It was a happy accident that I'm forever grateful for. Being able to expose youth that look like me, to career, college, and entrepreneurship opportunities in food and agriculture has been the most rewarding experience even after traveling the country and abroad developing products for some of the top food companies in the world.
What motivates you to be active in your community or profession?
I'm so thankful for my job at AgLaunch because it gives me an opportunity to work not just in my community but several low-income neighborhoods throughout the city. Being able to use our network and resources to give these underrepresented groups a voice motivates me. Hearing Black farmers say that I give them hope, gives me hope and encourages me to keep fighting the good fight.
What does being a young professional in Memphis mean to you?
It's an exciting time for food and agriculture in Memphis right now. In the beginning of my career, I was forced to live in other major cities because there weren't many food and agriculture opportunities in Memphis outside of manufacturing. To see how the industry continues to evolve, drawing people to my hometown from all over the world, means a lot because for a while I thought moving back home ultimately meant the end of my career.
What do you like about living in Memphis?
Being close to family is my favorite part about living in Memphis, followed by the food and culture! Sage, Maciel's, Trap Fusion, and Muddy's are some of my favorite spots. I love Memphis summers (minus the mosquitos)- strolling through Overton Square, going to outdoor concerts and the farmers' markets on the weekends, and eating Suga Mama Snoballs with my 3yr old are a few of my favorite activities.
What advice do you have for new young professionals interested in starting or building their career in Memphis?
Memphis is the perfect place to start and build a career. The grit and grind of the city will prepare you for any path you choose to take whether it's climbing the corporate ladder, being an entrepreneur, or working in philanthropy. There is a good mix of businesses, organizations, and motivated professionals willing to guide and support you along the way.
Who do you most admire and why?
Having spent the majority of my career in food processing, I have a newfound admiration and respect for farmers, especially Black farmers. Farming isn't for everyone. It's hard work, and it involves taking a lot of risks. These farmers are committed to growing food for their families and communities, with little to no support. Without these stewards, the food we eat, the clothes we wear, the roof over our heads, none of it is possible.
Where do you see yourself in 10 years?
In 10 years, I will be putting my doctorate degree in Land, Food, and Faith Formation from Memphis Theological Seminary to good use developing and implementing faith-based food and agriculture programs in low-income neighborhoods across the country. When I'm not traveling, I plan to relax on my family farm, cooking delicious, farm fresh meals and entertaining family and friends.
What's your favorite thing about being a young professional in Memphis?
My favorite thing about being a young professional in Memphis is being able to network and exchange stories and ideas with fellow young professionals while eating good food.
---