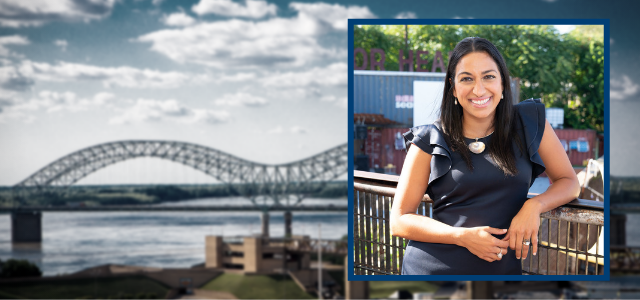 Get to know Fara Captain, Owner, Captain and Company Real Estate and Greater Memphis chamber 2019 Young Memphis Honoree.
What event or accomplishment has been the most impactful for your career so far?
The most impactful accomplishment has been starting my own company. Being a business owner has enabled me to make the Memphis community my priority and to be an industry change agent. At Captain & Company we believe in inspiring our agents to be future leaders not only in their profession but within the community. We are strong believers in giving back to the community through volunteering and community outreach. One of our Give Back Goals is to build one home a year for a Memphis family in need. We are excited to partner with United Housing to make this dream come true with a strategic plan to kick off in Fall 2020.
What motivates you to be active in your community or profession?
I am motivated by my fellow REALTOR peers, my agents, my family and my community. Watching the growth of this city motivates me to be a part of the change and the momentum. I believe we have amazing untapped potential in this community. Having just completed a six plus month class on Unpacking Racism thru the Civil Rights Museum, I realized I have the passion, opportunity and the stage to truly be a change agent for diversity and inclusion for our community. While we have a ways to go, I am inspired by other change agents in my real estate and our community.
What does being a young professional in Memphis mean to you?
Being a Young Professional in Memphis means being a change agent for this beautiful city. To have the ability to contribute towards the positive momentum that this city has going on is inspiring and exciting. I want to harness the energy of our young professionals to help move towards a common goal.
What do you like about living in Memphis?
Memphis is a small city with a big heart. I love the community of Memphians. I love the Southern hospitality. I love going for a run on the Mississippi River, Overton Park or running the stairs at Tom Lee Park, biking downtown or through Midtown, Loflin Yard & watching the sunset with our neighbors. I love the friendliness of our servers and bartenders and the welcoming atmosphere of all our restaurants. I practically live at Juice Bar and Beauty Shop for meals during my hectic days. In my rare spare time, I love running rugby drills at Mud Island Park (when the water is low). I love the ability to be a game changer and contribute through volunteering as a board member for Kindred Place and Memphis Inner City Rugby.
What advice do you have for new young professionals interested in starting or building their career in Memphis?
Be persistent and don't let fear hold you back. Listen and learn from the older generations but don't be afraid to challenge the norm if you think there is a better way. Figure out your true purpose then apply it in everything you do.
Who do you most admire and why?
Lately, my biggest inspiration has been Dr Martin Luther King. I often think of the challenges he faced for paving a new path and foundation for our generation. His ability to gain the attention of the mass population while remaining calm through some of the worse times. I admire his leadership, his intellect, his public speaking skills and the ability to hold the heart of so many. I admire his vision and I hope to contribute towards his vision of equality and equity in some small way in Memphis.
Where do you see yourself in 10 years?
I see myself as an entrepreneur dabbling in other ventures that provide opportunity for our city while putting Diversity, Equity and Inclusion as a top priority.
What's your favorite thing about being a young professional in Memphis?
The ability to meet other young professionals that dream big and have a vision for this city.
---
Interested in getting plugged in? Learn more about the Chamber's Soundcheck Young Professionals Council here.