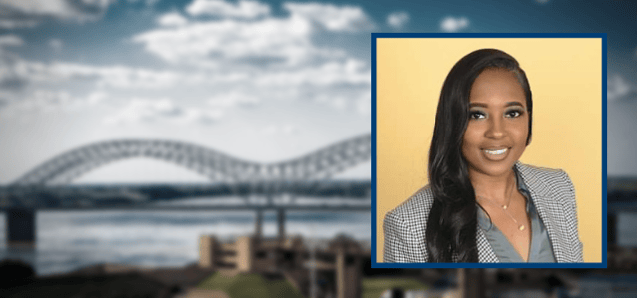 Get to know Derravia Freeman Rich, Digital Agronomy Work Based Learning Coordinator for Tennessee College of Applied Technology in Covington and Greater Memphis Chamber 2020 Young Memphis Honoree.
What event or accomplishment has been the most impactful for your career so far?
Living outside of Memphis for over a decade has made a huge impact on my career pivot. I lived in Nashville for about 12 years and when I moved back home to Memphis in 2015, I wanted to be apart of a collective force whose vision was to improve the living conditions of residents , reimagine Memphis as a mecca for innovators and entrepreneurs, and to create better opportunities to promote economic and social growth. Moving back home allowed me to see my city in a different perspective. That new perspective has influenced me to be active in creating environments and opportunities for local Memphians.
What motivates you to be active in your community or profession?
I come from a closely knit neighborhood of elders who were raised in a community that once had everything they needed. I've heard so many stories from the past told by family members and older neighbors that talk about how safe, socially connected, & heavily invested in their families collectively as a community unit. Although the community I'm from is relatively small, the grass roots of our people are very strong. The Magnolia-Castalia community has always (even generations before me) have invested efforts into community development. I still remember from a young age, community Churches & leaders hosting events regularly for families in the Those events were very beneficial and were resources that many people looked forward to. That has been the community culture in our area even before my parents were born. Working and helping each other is the advantage. Community members coming together to take collective action and generate solutions to common problems: that method is the solution. I believe in working together to empower our people with opportunities and skills they need to affect change within their community. It is imperative that we (Memphians) as a city create pipelines to ensure economic parity for all. My neighborhood was built around prideful, thriving residents. Many of those same residents are currently city leaders, professionals, and hard working citizens. My neighborhood is full of Community members who are passionate about keeping our area clean and safe. Everyone deserves a happy, healthy and thriving community and we can be the ones to provide that for not only ourselves but also the future generation that is going to live there, we need to lead by example. If the younger generations do not see us doing it then they will not either and then each community will turn into simply just a collection of individuals that just happen to live within one geographical constituency and that is not what we want. The new Memphis has a future that we all envision as a city filled with communities where children can play outside with out fear, where people actually know their neighbors and ultimately one where we all get along for the betterment of society. We owe that to the upcoming and future generations of residents in Memphis. Change starts with a little contribution that will have a big impact. Community involvement is so crucial because what goes on in your community directly affects you and what you do! That's what motivates me to be active in my community.
What does "being a young professional in Memphis" mean to you?
Being a young professional in Memphis means to me that I'm a part of a collective force that's moving our city upward As a professional in this city, wearing many hats, I recognize that it is my responsibility to take action when needed, be of positive influence, and to collaborate with others toward the desired goal of growing Memphis.
What do you like about living in Memphis?
I love living in Memphis for many reasons but one of the main reasons is the people. I love the energy and the vibes of Memphians. Memphis culture is unique, undeniable, and irreplaceable.
What advice do you have for new young professionals interested in starting or building their career in Memphis?
My advice for young new professionals in Memphis interested in starting or building their career in Memphis is to not give up. Maintain your purpose and goal in spite of difficulty. Be intentional, be patient, and be resilient in challenging times. Never give up and continue to persevere when times are demanding.
Who do you most admire and why?
I admire my family most. My Grandparents raised me with strong spiritual beliefs and always taught me that if you live right, then good things will come back to you. My Father has also been very influential in my life. He was the first person to inspire me that I can do and be anything that I dreamed of. My strong family village of aunts and uncles played a huge role in my development and I am forever grateful for them all. Whether it be for support, guidance, or advice; they have all been there for me throughout my entire life. In my younger ages, my family delved deeply into my talents and passions while always rooting me on to be my best. I truly believe that has been the unwavering force that has led me to where I am today.
Where do you see yourself in 10 years?
In the next ten years, I see myself owning several local small businesses while working for the State of TN and/or The City of Memphis.
What's your favorite thing about being a young professional in Memphis?
My favorite thing about being a young professional in Memphis is that I am able to demonstrate my hard work, knowledge, and poise on many platforms and in my own city. Being able to learn new things, work with local experts and have access to information that can help others are all aspects that are invaluable for a young professional. It gives me the opportunity to be a resource to any person or place throughout my city. I am very eager to eradicate the stigma of young professionals leaving Memphis and taking their talents to other cities. My journey through entrepreneurship has given me the opportunity to show disbelievers that being young does not disqualify you from holding a high level of work ethic. Being selected to be apart of the Greater Memphis Chamber's Young Professionals Class of 2020, is just another example of how hard work never goes unnoticed. What a joy to be recognized by your own city!
---
Interested in getting plugged in? Learn more about the Chamber's Soundcheck Young Professionals Council here.