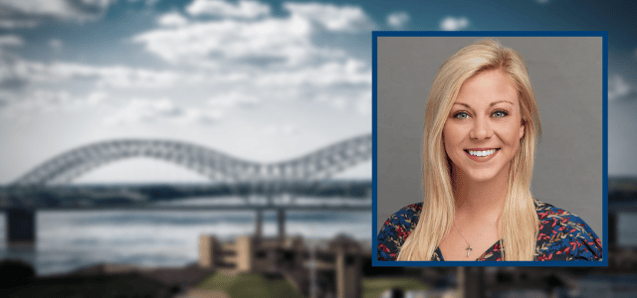 Get to know Chessie (Biggam) Hayes, Director of Development at Meritan, and Greater Memphis Chamber 2020 Young Memphis Honoree.
What event or accomplishment has been the most impactful for your career so far?
The most impactful accomplishment of my career was achieving my Certified Fundraising Executive credential in May of 2019. I am one of the youngest fundraisers in the country to receive this prestigious credential. Recently, I presented at the Association of Fundraising Professionals St. Louis Regional Conference. My peer, Nick Kulik and I presented about "The Next Generation of Donors: Motivating Millennials to Give Now." The most meaningful part of my job at Meritan has been working with donors and community members that want to push our mission forward and help us achieve our goals and vision.
What motivates you to be active in your community or profession?
To be active in my community and fundraising profession, I am motivated by my passion to serve and help others. When I was growing up, my mother always told me, "Be the change that you wish to see in the world." Every single morning when I wake up, I wake up energized to work (now from home) because I know that the work I do at Meritan truly makes a positive difference.
What does "being a young professional in Memphis" mean to you?
As a young professional in Memphis means I strive to be a leader in my field and to my peers. It is important to show gratitude and be an inspiration to the next generation.
What do you like about living in Memphis?
I love living in Memphis. Living in Memphis has been an amazing experience. Memphis has a diverse community and culture. There is always a familiar face to see and always someone new to meet. My favorite festival/event in Memphis is Memphis in May, specifically Barbecue Fest. It is my favorite time of year. I have several favorite restaurants and happy hour spots. They include: Arcade Restaurant (Bloody Mary's), Alchemy, Next Door/ Sweet Grass (Best Chicken Biscuit), the Cove in the Broad Avenue District, Bosco's in Overton Square, and Babalu (for their guacamole of course).
What advice do you have for new young professionals interested in starting or building their career in Memphis?
Do it! My advice to new young professionals interested in starting or building their career in Memphis is to network and join as many membership organizations as you can. Joining membership organizations such as the Greater Memphis Chamber or Rotary clubs truly makes a difference in your career. Network and meet with as many professionals as you can. Colleagues can give you advice on where to start and what organizations to join that way you do not have to "recreate the wheel" per say. For example, when starting my fundraising career in Memphis, my professor in the University of Memphis' MPA program encouraged me to join the Association of Fundraising Professionals (AFP)- Memphis Chapter. Ever since I have joined, I have been on the board, involved with AFP globally, and connected with my fundraising peers in Memphis, TN.
Who do you most admire and why?
I most admire my Associate Vice-President of Development at Meritan named Tammy Pierce, who is also my supervisor. Since my first day of employment, she has pushed me to be the best fundraiser and leader that I can be. She has always encouraged me to participate in different types of professional development, whether it was volunteering my time and serving on the AFP Memphis board, being an attendee at a conference, and taking leadership and grant-writing courses. When I mentioned about obtaining my CFRE, she assisted me throughout the application process, and with her help, I obtained my CFRE in May of 2019. I can honestly say that she is the secret behind all of my accomplishments.
Where do you see yourself in 10 years?
In 10 years, I see myself as a leader in the nonprofit sector and the Mid-South community. I hope to have gained as much knowledge and be as advanced professionally as possible. I see myself in a position to mentor others in my field. I am looking forward to achieving this goal by using my experiences to help the next generation achieve their personal and professional goals.
What's your favorite thing about being a young professional in Memphis?
My favorite thing about being a young professional in Memphis is that there are always opportunities for professional development and growth. For instance, the Greater Memphis Chamber offers their "Lunch In the Know" series, cityCURRENT offers their virtual monthly breakfast, and other local membership organizations are offering professional development virtually too. Additionally, Memphis is the most generous city in the country, and there are always opportunities to give your time, talent, and treasure. Volunteer United and Volunteer Odyssey are great online platforms that show you the current volunteer opportunities.
---
Interested in getting plugged in? Learn more about the Chamber's Soundcheck Young Professionals Council here.