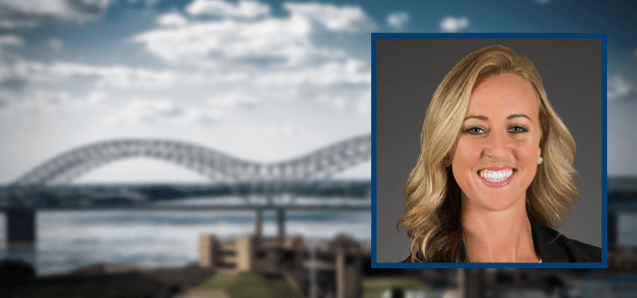 Get to know Casey Flannery, Senior Associate with Cushman & Wakefield | Commercial Advisors and Greater Memphis Chamber 2020 Young Memphis Honoree.
What event or accomplishment has been the most impactful for your career so far?
A former colleague and I created an online platform for commercial real estate professionals to network and share best practices and industry trends. It has really taken off since we started it in 2018 and has given access us access to global publications and professionals in various markets. It's called #CREchat and is a live Twitter chat (Q&A) that takes place once a month. It has helped me in creating a personal brand for myself and recognition in Memphis and across the globe. Additionally, I assisted in relocating The Barefoot Bride's store from East Memphis to Downtown Memphis (South Main area). Their space is amazing, unique, and utilizes the historic building and aesthetics at The Emerge Building (516 Tennessee Street).
What motivates you to be active in your community or profession?
I thoroughly enjoy giving back to my community and supporting local businesses. When local businesses are successful, so is the city of Memphis, and if the city is successful, I am, too.
What does "being a young professional in Memphis" mean to you?
I am paving the way for other young professionals and I am also a part of the growing momentum of Memphis. The city is rich in culture and history, and it is unlike many other new cities; its incredible seeing not just new developments happening, but also redevelopments to keep the character of the city.
What do you like about living in Memphis?
Most of my favorite offerings of Memphis have to do with nature. Memphis is a large city, while also offering green space and outdoor activities. One of my favorite things about Memphis is the sunsets. Watching the changing colors over the Mississippi River, AutoZone Park, and Hyde Lake at Shelby Farms is indescribable.
What advice do you have for new young professionals interested in starting or building their career in Memphis?
Take advantage of the hospitality of Memphians. Connect with as many businesspersons as you can and always follow up. Memphis and the chamber offer plenty of ways to connect with others.
Who do you most admire and why?
I most admire my father, Skip Flannery, who taught me dedication, determination, perseverance, hard work, and tenacity. He wasn't one to just give everything or anything I wanted. I also admire my former cheerleading coach, Kenya Hill, who taught me the same, albeit in a different way, leading to my five (5) national championships.
Where do you see yourself in 10 years?
I currently consider myself as a successful individual, but I'd like to continue my success, improving year over year and giving back even more to my community.
What's your favorite thing about being a young professional in Memphis?
I am ecstatic to see young, new faces entering the business world. Even many who are not originally from Memphis have chosen to build their careers here.
---
Interested in getting plugged in? Learn more about the Chamber's Young Professionals Council here.