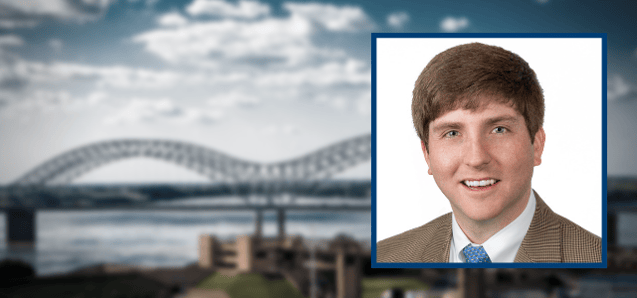 Get to know Alex Stringfellow, Vice President with Colliers International, Memphis and Greater Memphis Chamber 2020 Young Memphis Honoree.
What event or accomplishment has been the most impactful for your career so far?
I'll never forgot receiving the call from Don Drinkard and Kevin Adams saying they might have an open position with CBRE in Memphis. I was working in Nashville at the time, but anxious to get back to Memphis and ideally find a job in commercial real estate. At that point, I would have been open to anything, but when Don said it was a position focused on Downtown Memphis, I couldn't get here fast enough. It was 2011, so not the best time to be hiring or starting in real estate, but CBRE gave me a chance, and it turned out to be the best decision I ever made.
What motivates you to be active in your community or profession?
I'm motivated by a passion for Memphis and a desire to see the City continue to grow and prosper. I have been fortunate to receive a lot of opportunities in life and in my career, and I feel I have a responsibility to pay that forward.
What does "being a young professional in Memphis" mean to you?
It means having the opportunity to make an impact on my firm and community at an early age, if I'm willing to put the work in. Being young also gives me the optimism (or naivety) to not accept the status quo and keep pushing for new ideas and change.
What do you like about living in Memphis?
I love Memphis sports (Grizzlies, Tigers football, Tigers basketball), BBQ fest (team Sweet Cheeks), and the endless activities available for young families (My Big Backyard at Botanic Gardens, Children's Museum, Dixon, Memphis Zoo, Overton Park and the numerous neighborhood parks and playgrounds).
What advice do you have for new young professionals interested in starting or building their career in Memphis?
Don't be afraid to hear "no". In my experience, business owners and leaders are willing to meet, listen and offer advice, but you must be willing to ask. I would also advise young people to be the "they". People often make comments such as "when will 'they' do something about the schools" or "when will 'they' re-develop that blighted corner." We can't rely on or expect government and senior business leaders to handle all the challenges around us. Sometimes it's up to us to be the 'they'.
Who do you most admire and why?
It's difficult to pick one person. Any success I've had professionally was an extension of successes from people I was fortunate to be around. My business requires strong mentorship and I've had the privilege of learning and growing under some great bosses including Ron Kastner at CBRE and currently with Andy Cates at Colliers.
Where do you see yourself in 10 years?
Living in Memphis and continuing to work with local and national firms to attract new jobs and investment to our community. I'm sure I'll also be very anxious about having a teenager daughter!
What's your favorite thing about being a young professional in Memphis?
My favorite thing about being a young professional in Memphis is the excitement I see from older colleagues and community leaders when the younger generation gets involved. Despite some the negativity you may see online, it shows me that our experienced leaders have faith and confidence in their community and an optimism for the future.
---
Interested in getting plugged in? Learn more about the Chamber's Soundcheck Young Professionals Council here.