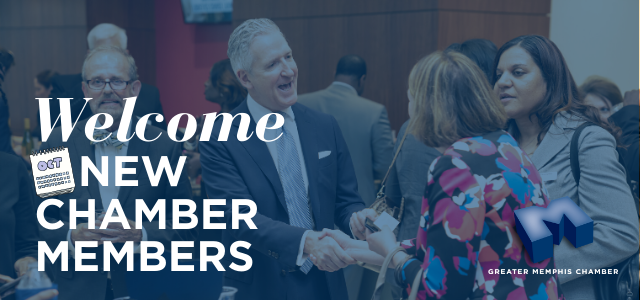 The Greater Memphis Chamber is excited to introduce our new Chamber members who joined during the month of October. We continually strive to connect you to one another and to the community at large. Please welcome them by visiting their website, sending them an email or stopping by to introduce yourself. The personal touch will help our chamber continue to grow and thrive.
View the full Membership Directory here. Members can be searched alphabetically, categorical, or by key words.
October New Members
1st Priority Restoration, LLC | Member Page
Africa In April Cultural Awareness Festival, Inc. | Member Page
Baldwin & Shell Construction Co. | Member Page
Been There - Done That Consulting Services, LLC | Member Page
BLDG Memphis | Member Page
Bridges for the Deaf and Hard of Hearing | Member Page
Byrd Realty Services, LLC | Member Page
Cigna Healthcare | Member Page
Dr. Angela Sallie, PLLC | Member Page
Fully Promoted of Memphis East | Member Page
Hiller Plumbing, Heating, Cooling and Electrical | Member Page
Jabberblabber Magazine | Member Page
Modern Gynecology & Reproductive Health | Member Page
One Digital Health and Benefits | Member Page
Red Hook Cajun Restaurant | Member Page
Sperohealth | Member Page
State Farm Agent Brandon Colom | Member Page
Tennessee Valley Training Center | Member Page
The Emerge Building (Anchor Investments) | Member Page
Thrive Hearing & Tinnitus Solutions | Member Page
---

Not yet a member of West Tennessee's most connected business organization? Learn more about the benefits of membership here and join online.