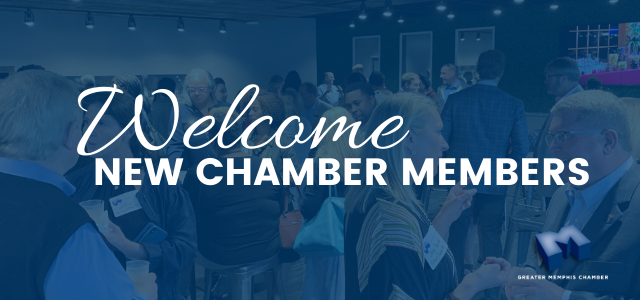 The Greater Memphis Chamber is excited to introduce our new Chamber members who joined from March to July. We continually strive to connect you to one another and to the community at large. Please welcome them by visiting their website, sending them an email or stopping by to introduce yourself. The personal touch will help our chamber continue to grow and thrive.
View the full Membership Directory here. Members can be searched alphabetically, categorical, or by key words.
New Members
Fast Freight Intermodal Company
ISK Biocides/ IBC Manufacturing Company
New Image Family Denistry - Rock Development Corp. is located at 3719 Riverdale Rd is a Premier dental office specializing in Cosmetic restoration and performs all General dentistry procedures including Whitening, Extractions, Root Canals,. We cater especially to those that are extremely afraid of the dentist. Our phone number is 901. 365.2000
Pretty Girls Get Waxed, Inc. is a Professional, Trendy, Fun Full body waxing center. We are most known for using our very own signature hard wax on our clients to deliver an almost painless experience!
W&T Contracting Corporation is a licensed and bonded Certified Minority Business Site Utility Contractor started in 1997. We provide wastewater, water and storm water construction throughout the Mid-South to local governments, private and commercial customers.
---

Not yet a member of West Tennessee's most connected business organization?
Learn more about the benefits of membership here and join online.