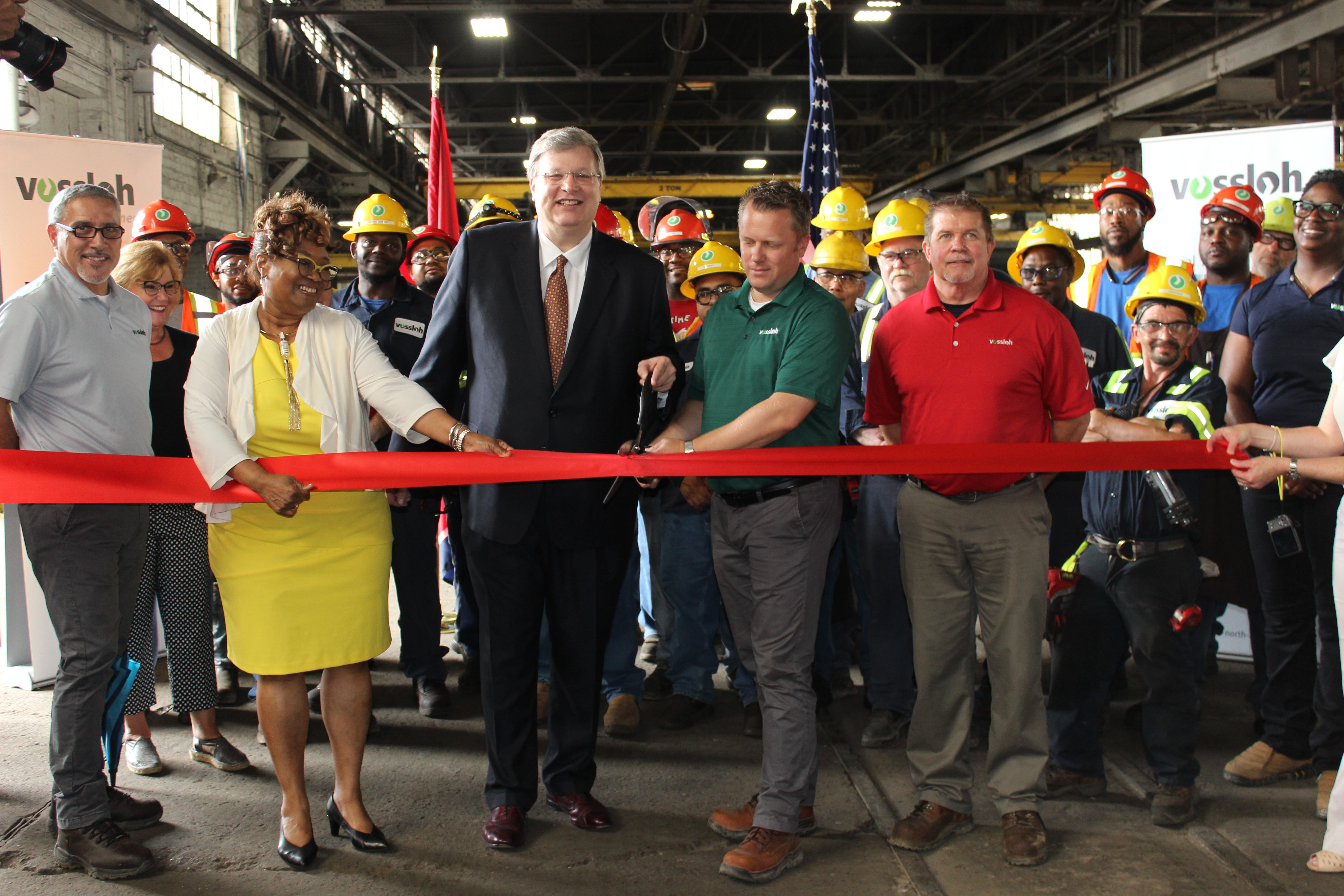 (Charlotte, NC – June 18, 2019) City of Memphis Mayor Jim Strickland, members of the Economic Development Growth Engine (EDGE) for Memphis and Shelby County, the Greater Memphis Chamber and other government officials met at Vossloh North America, Memphis Manufacturing Plant for their ribbon cutting ceremony.
Jens Findel, Chief Operations Officer and other Vossloh executives cut the ceremonial ribbon to celebrate our expansion and operations growth project. "At Vossloh, we are fully committed to focus on continuous improvements, our employees, and customer excellence. Today marks a great day as we are strengthening our investment in the city of Memphis, TN, and its people", said Jens Findel, COO for Cleveland Track Material, Inc.
The expansion project will include improvements to the office space and new machinery to increase manufacturing capabilities to sustain the market growth we are facing. Simultaneously, we are expecting to hire new employees and management personnel within the next two years to support our growing operations.
"We are happy to improve and increase manufacturing capabilities with new machinery and physical improvements of the space to accommodate new hires and management personnel", said James McCaslin, Vice-President of Operations for Cleveland Track Material, Inc.
The United States of America boasts on being the world's longest rail network, measuring approximately 140,000 rail miles in total length. North America Class I railroads move more freight than any other network in the world. Memphis is home to the 3rd-largest rail center in the U.S. Vossloh Memphis manufactures infrastructure products for light rail and intermodal freight.
"The expansion of the Vossloh facility represents a growing cluster of rail-related industries in the area. EDGE congratulates Vossloh on its decision to increase its presence and create new job opportunities in Memphis/Shelby County," said Reid Dulberger, EDGE: Economic Development Growth Engine, President/CEO.
About EDGE
EDGE provides and coordinates public resources to drive economic development and or business expansion with the ongoing improvement of the quality of life for its citizens in the greater Memphis and Shelby County area in Tennessee. Vossloh started the submission process earlier this yearto present the project expansion plan and strategies.
About Vossloh
Vossloh is a leading global provider in the rail infrastructure industry. The Group activities are organized into the three divisions Core Components, Customized Modules and Lifecycle Solutions. Vossloh offers a unique product range for rail infrastructure, all under one roof: rail fastening systems, concrete ties, switch systems as well as services related to the value maintenance of the rails. Vossloh thereby makes an important contribution to the mobility of people and the transport of commodities. In the 2018 fiscal year, Vossloh achieved sales of about €865 million with over 3,800 employees.
Media Contact
Michelle Rodriguez
Senior Marketing Manager, Vossloh North America
phone: 980.312.2061
email:michelle.rodriguez@vossloh.com
---