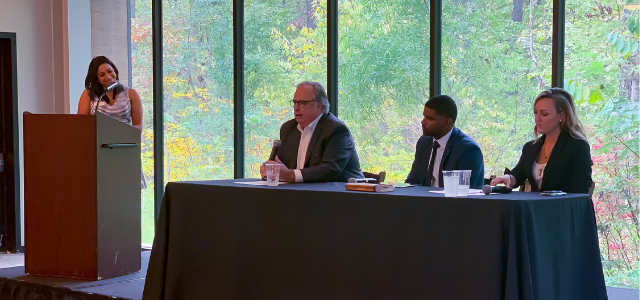 With $19 billion invested for new, planned or recently completed projects in the Greater Memphis region right now, our young professionals are eager to learn more development and investing opportunities.
Over 50 members of SoundCheck, the Chamber's Young Professionals Council, gathered last week for a panel discussion regarding commercial real estate developments and their impact in Memphis. Hosted by Fara Captain of Captain & Co Real Estate, the panelists included Frank Quinn of CBRE., Brent Hooks of Allworld Project Management, and Casey Flannery of Cushman & Wakefield | Commercial Advisors.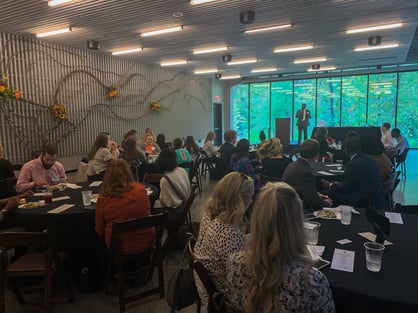 During the luncheon, the panelists engaged in much discussion about current real estate trends, the impact of opportunity zones, shared economy, and tips to get started in investing.
In regards to making Memphis competitive to attract investment and developments, Frank simply shared with the group,
"We don't need to compete because we're different. We offer a different lifestyle."
He added that if we as a city continue to focus on our strengths, culture and location then we will automatically have a competitive advantage over peer cities.
Opportunity Zones was a hot topic during the conversation as well. Brent explained that incentives such as development grants, opportunities zones and others are a great way to locate what areas one should invest in that potentially could become a "hot" market in the future.
SoundCheck members were also curious about how the shared economy elements such as bike-share and co-working space have impacted the way we live, work and navigate our city. Casey mentioned that shared office work areas in particular are creating community amongst entrepreneurs and new developers noting that while new projects are being planned, investors seek areas of co-working space to not only work but to collaborate with neighboring local businesses.
As far as next steps for young professionals interested in commercial real estate, the panelists advised the group to develop mentorships to not only learn from experienced investors but add value to the relationship so that each party can benefit and grow.
---
Stay in the know about upcoming exclusive SoundCheck events and programming by becoming a member.
The Greater Memphis Chamber is the lead economic development agency for the Greater Memphis region and is a private, non-profit, membership-driven organization comprised of 2,000 business enterprises, civic organizations, educational institutions and individuals. For more information visit www.memphischamber.com. Find Greater Memphis Chamber on LinkedIn, Facebook, Twitter and Instagram.