Welcome to Skills Match
SkillsMatch is a powerful way to explore personalized recommendations for work, based on the skills that you have and the skills that you want to learn. Leveraging the in-demand skills across job categories can help make you more competitive and stand-out for new opportunities in the marketplace. SkillsMatch is powered by Economic Modeling Specialists International - a national leader in higher education, economic development, workforce development and talent analytics.
Let's see how it works
When you first arrive, you will be welcomed to the introduction page, shown below. Here, you will see a quick overview of the system and the flow for which you will move through the system.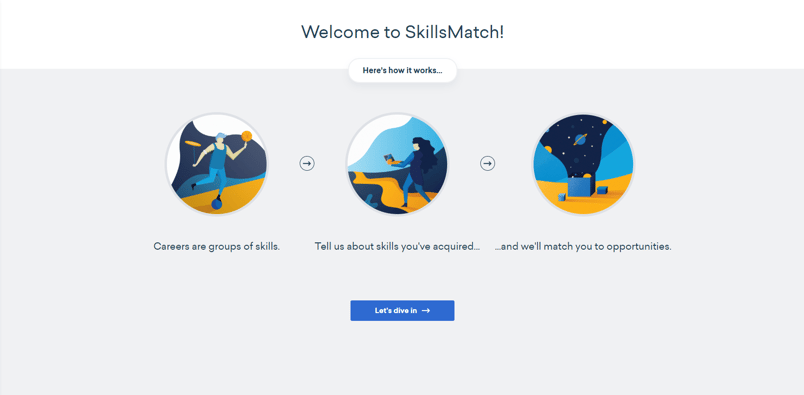 Let's dive in and see how relevant skills can match YOU to new opportunities in the job market.
Step 1: Identify your Objective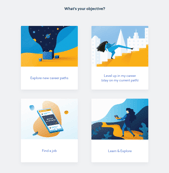 SkillsMatch presents opportunities to explore and discover.
To begin, choose one of the four objectives:
1. Want to explore new career paths;
2. Stay on your current path but learn about upskilling opportunities;
3. Find a job in the local market; or
4. Learn and explore the skills that are relevant in another career area.
In our example we will be going through the process as a recently displaced restaurant manager who is curious how their skills can transfer to a new opportunity in another field.
Step 2: Education and Skills
After entering through the 'Find a Job' module, you will be prompted to provide information related to your previous education. This includes: education level, area of study, and status.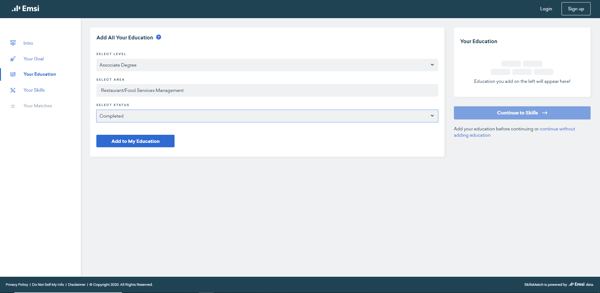 Once the fields have been entered, click 'Add to Education'. Your education is displayed on the right hand side of the screen. In this instance, we've identified that we've completed an associate degree in Restaurant/food service management.
NOTE: Incorporating previous educational information is not a requirement of SkillsMatch. However, doing so will better influence the types of skills that are displayed within the next step. You can add as many, or as little, education fields as you'd like. If education is not relevant to your search, simply click 'Skills' on the left hand side of the screen.
Now, it's time to add your relevant skills.
You can add skills by Education, Job Title, Category, or Name.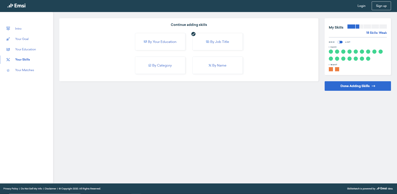 In the context of our example, with an associate degree in Restaurant/Food Service Management, let's assume we most recently held a position as a restaurant manager. However, due to the COVID-19 crisis, I'm currently out of work and curious how I could leverage my skills to crosswalk into a more resilient career, relative to this pandemic.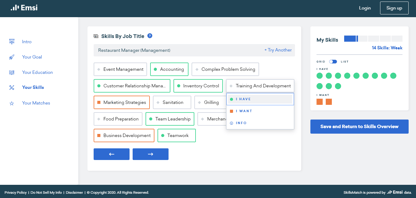 To start, search for relevant skills within your most recent job title, a restaurant manager. After typing in the job title, you can easily see and take an inventory of the most common types of skills that are related to this position.
Single click any relevant skill and identify if you have this skill currently (shown in green), or if this is a skill that you would like to acquire in the future (highlighted in red). Shown above, we've selected relevant current skills of Accounting, Customer Relationship Management, and Training and Development with Business Development and Marketing Strategies as those skills we would like to acquire.
You can also search or skills by category. This can be helpful to identify more detailed skills related to various functions of a job, like business and finance or digital technologies.
KEY INSIGHT: Incorporate other previously held jobs into your search, doing so will help match relevant skills to a wider set of strategic opportunities.
Before moving forward, SkillsMatch will suggest a few more skills that are related to those that have been chosen. This gives you one more opportunity to consider skills that you may have missed or may not have thought to search for earlier.
By identifying previous educational attainment and taking an inventory of skills, we can now discover new areas of opportunity that might have otherwise gone unnoticed. Relative to our example, with managerial experience in a restaurant or food service industry, we can see that our skills are also transferable to many other areas. Shown below, outside of Hospitality and Food Services, the top three areas with the highest compatibility to the skills selected include: Business Analysis and Operations, Office and Administrative Services, as well as Maintenance and Installation.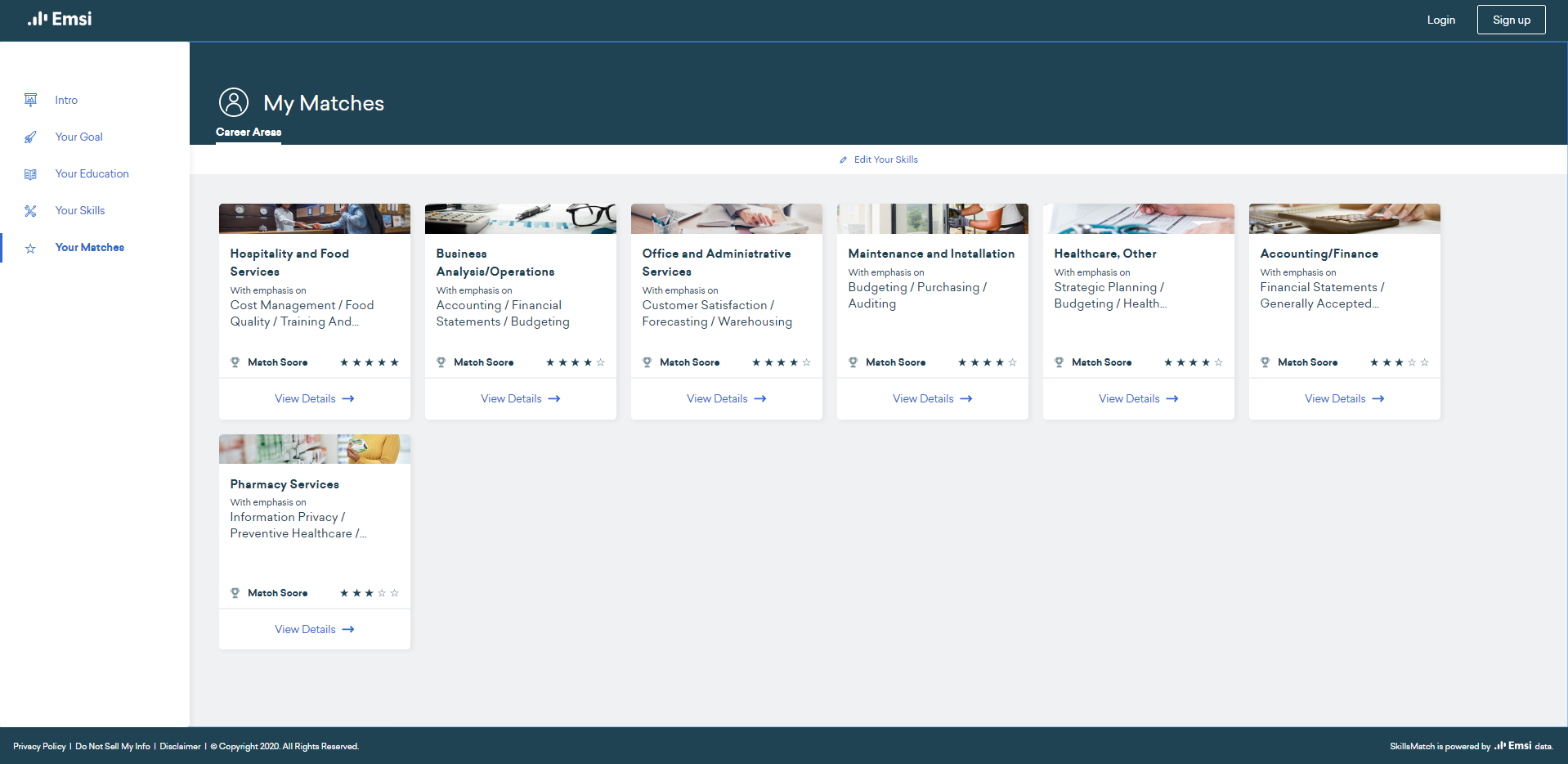 With the various areas of opportunity displayed, select 'View Details' to dive deeper.
Shown below, you can easily see the top in-demand skills within that particular area as well as how it relates to the skills you've selected. Additionally, suggested educational programs that can fuel new growth and capture the skills you want.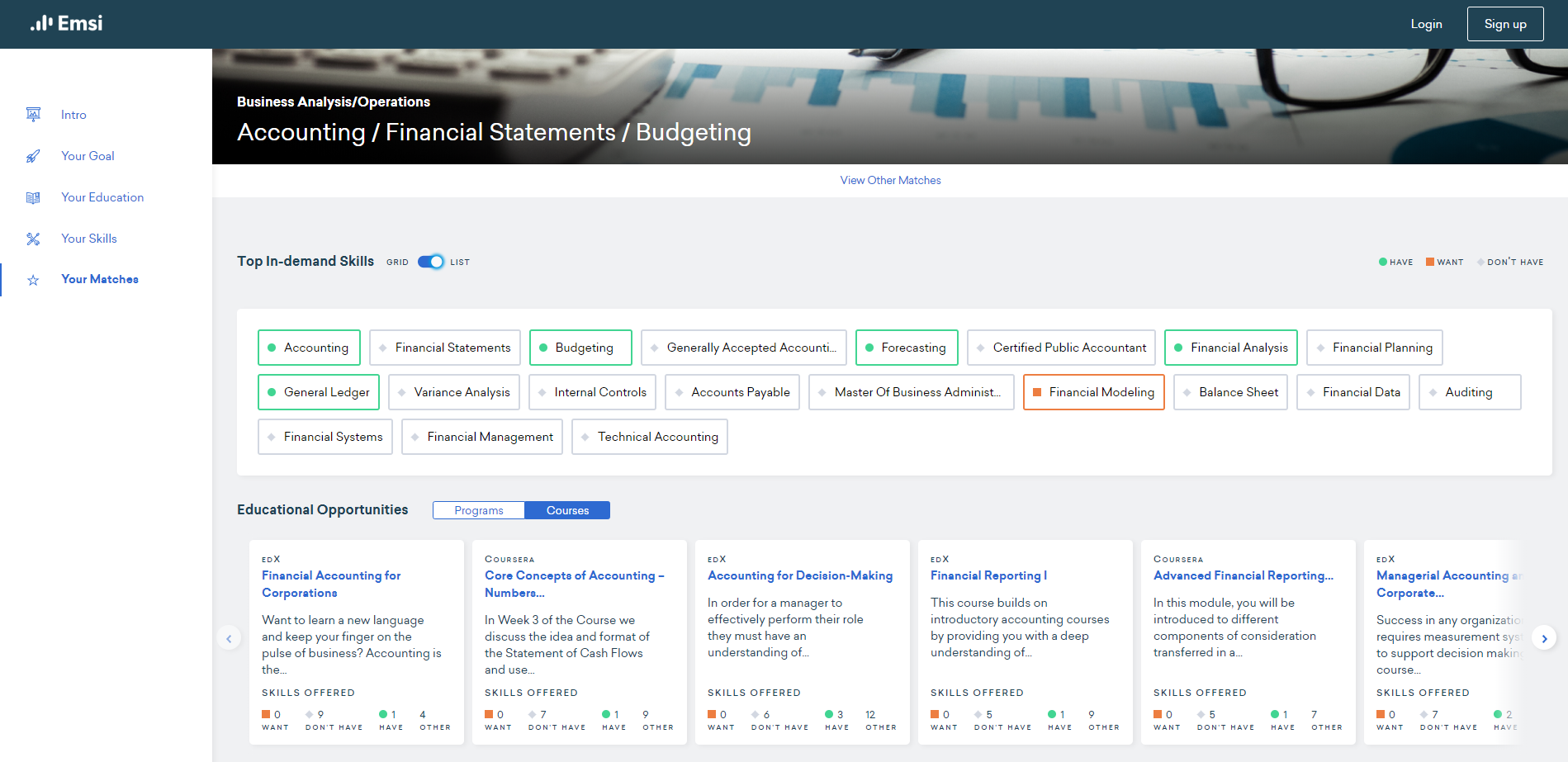 Step 4: Review Live Jobs Postings
With new areas of growth and opportunity captured, it's time to review the relevant job postings that align to your new outlook.
Shown below, SkillsMatch provides the ability to search for job postings by zip code. In this instance, within zip 38103 we can see current demand by local employers for strong business and operations positions.
To ensure a strong sample of opportunities are found, search for as many zip codes that are relevant to your geography of interest.
To explore an interactive map that identifies zip codes with the greater Memphis area, click here.

Step 5: Apply!
Through the process of looking at skills, you can position yourself competitive for opportunities that you might not have recognized previously. Clicking on an individual position will bring you to the job postings source page where you can easily apply for the position online.
---
To optimize your position in the marketplace, align the language in your resume with the skills you've identified. This will allow your resume to stand out, as the language in your resume will align to the language used by the employer.
For assistance in creating or optimizing a resume, click on the link of your choice, below.
Ready to get started?
---
Looking for work and have a question? Let us know.