Here at the Greater Memphis Chamber we love to celebrate business growth and development! There's nothing like standing beside you as you open the doors to your new business or reveal your new expansion. That's why we offer our members our expertise and assistance with hosting grand opening and expansion ceremonies. Thank you to our Ribbon Cuttings sponsor, Paragon Bank for helping us support local businesses like you.
We're happy to celebrate Fifty Seven Pounds on their grand opening at 5350 Poplar Avenue Suite 200, Memphis, TN 38119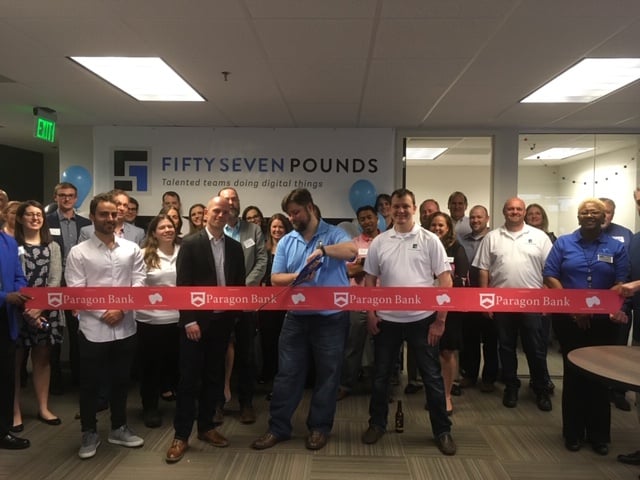 What does your business do?
We work with medium sized to large organizations all over the country, assisting them with their technology needs. We focus in 3 major areas: App Modernization, MarTech Delivery, and Agile Teams.
What makes your business stand out?
Our focus on people and our clients' business drivers is our differentiator. We invest a significant amount in creating a culture where great people want to work and grow. That allows us to find and retain people who know how to deliver value.
Why did you join the chamber?
Vanick Digital and Fifty Seven Pounds support the chamber as it is critical for a healthy Memphis economy and workforce,
What advice would you offer to those wanting to start their own business?
Be prepared to work your tail off. The concept of "time off" is really a misnomer. Even though you may not be in the office, you will still be working on, and worrying about, your business.
Who is your target customer?
Our target market are mid-size companies across TN and NC. The majority of our customers use us to create e-commerce applications, CMS solutions, and enterprise applications. We typically work with IT and/or marketing departments that need to scale up their team or a custom solution created and maintained over time.
Get to know the newest businesses in Memphis with more from our Ribbons blog, sponsored by Paragon Bank.