Here at the Greater Memphis Chamber we love to celebrate business growth and development! There's nothing like standing beside you as you open the doors to your new business or reveal your new expansion. That's why we offer our members our expertise and assistance with hosting grand opening and expansion ceremonies. Thank you to our Ribbon Cuttings sponsor, Paragon Bank for helping us support local businesses like you.
We're happy to celebrate Empire Beauty Schools on their grand opening.


Get to know this Memphis business in this Q&A with Empire Beauty School:
What is your business celebrating?
We are celebrating the launch of our new Esthetics program at the Colonial location.
What does your company bring to the Memphis market? Why is it unique?
We provide high quality education for those seeking to be licensed professionals in the cosmetology industry. Our curriculum is exclusive to Empire and we provide you with the tools and resources needed to be successful in the beauty industry. We also have strategic partnerships with national and local salons to provide a vast network of employment opportunities and advanced training.
Why did you decide to grow your company in Memphis? Why this location?
Memphis has always been a thriving city in all areas of business, art and entertainment. The beauty industry is just a small piece of Memphis we want to connect with.
What are some key things that allows your business to grow?
Networking! Each of us play a part in the success of our neighbor. Whether this means providing a pamper service, community partnership, advisory panels, supporting a cause, attending a party or just lending a helping hand. It connects us all in ways that beyond the basic needs of the business.
How does the Chamber help you do better in business? Why did you join?
The Chamber allows you to discover and connect with other members in a tangible way. You are able to meet with those who are seeking similar solutions and some who have overcome some of the same challenges you may be facing in today's economy.
---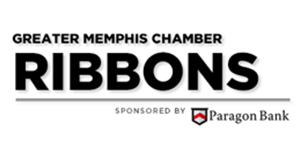 Get to know the newest businesses in Memphis with more from our Ribbons blog, sponsored by Paragon Bank.