Here at the Greater Memphis Chamber we love to celebrate business growth and development! There's nothing like standing beside you as you open the doors to your new business or reveal your new expansion. That's why we offer our members our expertise and assistance with hosting grand opening and expansion ceremonies. Thank you to our Ribbon Cuttings sponsor, Paragon Bank for helping us support local businesses like you.
We're happy to celebrate with ARRIVE Hotel on their grand opening.

Get to know this Memphis business in this Q&A with

ARRIVE hotel

:
What does your company bring to the Memphis market? Why is it unique?
ARRIVE is about the neighborhood and brings an authentic high quality offering geared to locals. The property is designed to reflect the communities architectural, cultural and physical spirit. We love this place and are excited to be part of the community and share what we love with our overnight guests.
Why did you decide to grow your company in memphis?
Memphis is a truly authentic American city, we were enamored by it's diversity, culture and unique voice. South Main Arts District is a breeding ground for creatives in all mediums, art, music, design, etc. Its architectural fabric and proximity to all that is Memphis is second to none.
what are some key things that allows your business to grow?
I think it is really paying attention, listening to what a community is, what a city needs and what part we can play to help fill that. We look at these hotels as catalysts for positive growth and beacons for neighborhoods. Thinking micro on execution and macro on experience.
How does the chAMBER HELP YOU DO BETTER IN BUSINESS? WHY DID YOU JOIN?
The chamber is community, it's essential to have the mindset to work together, communicate, more can be achieved by being connected and working towards positive growth/change. the chamber is your cheerleader, counselor and team member.
---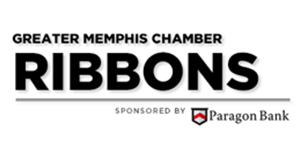 Get to know the newest businesses in Memphis with more from our Ribbons blog, sponsored by Paragon Bank.