Regions Bank executive David May to lead Chairman's Circle at crucial time for region, with record levels of economic development and employment.

May to lead business community response to heavy workforce demand, sets bold goal of introducing five new accelerated workforce training opportunities in 2022.

Launched in 2013, the Greater Memphis Chamber Chairman's Circle is made up of 145 C-suite executives dedicated to supporting the growth of the region.



MEMPHIS, Tenn. (May 24, 2022) – David May, Memphis market executive and head of Commercial Banking in Mid America for Regions Bank, has been named the chairman of the Greater Memphis Chamber Chairman's Circle. As chairman, May will lead 145 of the region's most influential C-suite executives in tackling some of the area's most pressing issues – including the urgent need to launch new workforce development programs to take advantage of historic economic growth in Greater Memphis.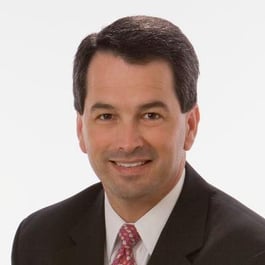 May succeeds Ben Adams, chairman emeritus of law firm Baker Donelson, and will serve in the role through January 2023.
"My passion, as well as Regions', is improving lives, which perfectly aligns with the Chairman's Circle's continued emphasis on workforce readiness," May said. "Because the Chamber has been so successful at bringing jobs to the region, we are in a position where we have to scale up our workforce programs just to keep up with this incredible growth. Our goal is to give people careers, not just jobs. In the coming months, the Chairman's Circle will work with community partners to launch new training opportunities that will open doors to life-changing career journeys."
As of March 2022, the Memphis MSA had made a full recovery from its Covid-19 pandemic job loss and reached a record-high of 659,600 people employed across the area. That recovery comes at a time when the Greater Memphis Chamber is projecting a wave of new jobs, especially in skilled labor, after having its best year ever for economic development in 2021. As the lead economic development organization for the region, the Chamber last year secured commitments from 33 companies – including Ford Motor Co. – to create more than 9,300 jobs with an average salary of more than $50,000 and to invest nearly $6.8 billion in the regional economy. And this year, interest in Greater Memphis is at an all-time high, with 48 projects looking at the region representing nearly 11,000 new jobs and $7.4 billion in capital investment.
To meet this sharp increase in demand for skilled labor, the Chairman's Circle is working with partners to introduce business-led accelerated skills training that can result in industry certifications and quality jobs in as little as 8-20 weeks. Chamber Senior Vice President of Workforce Development Amity Schuyler organized a site visit to Orlando, Florida, earlier this year for Chairman's Circle leadership to observe a comparable program conducted at 10 Valencia College locations with the goal of bringing similar training opportunities to Memphis.
"Our Chairman's Circle was created nearly 10 years ago to support the Chamber as we take on these kinds of challenges," said Beverly Robertson, president and CEO of the Greater Memphis Chamber. "At this critical time, we are honored to have an executive of David May's caliber in this leadership role. His passion and knowledge are perfectly matched to this pivotal moment in our history."
May said his goal is to work with partners to launch training for at least five certifications in his term. The Chairman's Circle will also work with local education partners to expand existing workforce programs and match the training to job opportunities.
"The Chairman's Circle is leading from the front on workforce development," said Nancy Coffee, senior vice president of the Chairman's Circle for the Chamber. "We want all Memphians to have the skills they need to participate in our region's economic growth. And we want all companies to have the people they need to grow their business here."
Since joining Regions in 1992, May has played an active role in the Memphis community, serving on numerous civic and charitable boards, including the Greater Memphis Chamber's Board of Directors. A graduate of the University of Mississippi, he and his wife, Brenda, have three children.
Chairman's Circle announces additional officers
In addition to May, the co-chairs of the Chairman's Circle also chose Michael Scarbrough of Prospero Health as vice chairman, as well as the following co-chairs for the upcoming year:
Ben Adams, Baker Donelson
Chance Carlisle, Carlisle LLC
Jason Berger, Olymbec USA LLC
Jim McMahon, American Residential Services
Paulo Teixeira, The Juice Plus+ Company
Laura Whitsitt, Smith & Nephew
Kevin Woods, BlueCross BlueShield of Tennessee
For a full list of Chairman's Circle members, click here.
About the Greater Memphis Chamber: One of Memphis' oldest institutions, dating back to 1838, the Greater Memphis Chamber is a privately funded nonprofit that serves as the region's lead economic development organization and the "Voice of Memphis Business" at the local, state, and national levels. The Chamber's mission is to relentlessly pursue prosperity for all — through economic and workforce development, pro-growth advocacy, and by providing support and resources to its investors, including many of the region's largest employers. For more information about the Chamber, visit memphischamber.com and memphismoves.com. Also, follow us on Twitter, Facebook, LinkedIn and Instagram, and sign up for our weekly newsletter, the Memphis Fourword.