On Tuesday, November 10th, the Greater Memphis Chamber held the second annual UpSkill 901 Workforce Summit virtually. Sponsored by FedEx, the summit this year focused on understanding the current state of workforce, how social responsibility is playing a larger role, and an outlook on how Memphis will be reshaped in this new climate.
The UpSkill 901 initiative was designed to galvanize our local workforce ecosystem to upskill 10,000 Memphis and Shelby County residents over 3 years.
"As you can imagine, COVID-19 has delayed many of our efforts but it has also helped us refine our focus on how we can really make a great impact in advancing our local talent," said Ernest Strickland, Greater Memphis Chamber SVP of Workforce. "We are even more equipped now than ever to do this work and we're proud of the growing number of partners that are committed to helping us move forward."

During the beginning of the summit, Ernest presented an update on the progress that's been made in the local workforce over the last year highlighting the successes of the initiative and the vision forward.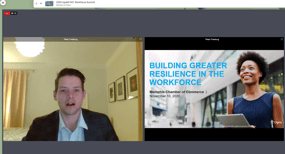 In the next presentation moderated by Michael O. Harris of Junior Achievement of Memphis and the Mid-South, Peter Freeburg, MA, LPC, Behavioral Clinical Account Manager at Cigna and Chad Matheson, Director of Economic Development Market Strategy at Greater Memphis Chamber, discussed the current state of work from both the viewpoints of the overall health of the employee as well as of the industry in which their jobs have been impacted.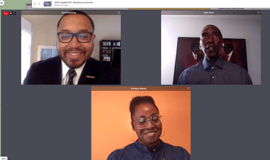 The summit continued with session II which included an All-Star Panel Discussion on the changing workforce climate, understanding business vs. social responsibility. Moderated by David McKinney of Auto Zone, panelists Elliot Perry, Former NBA Player & Director of Player Support at Memphis Grizzlies, and Kandace Stewart, Director of Business Operations and External Affairs at Memphis Grizzlies, gave great insight on what it takes to be a professional in this evolving work environment. They both highlighted the fact that employers and employees are both responsible for engaging with each other as well as being active in the community.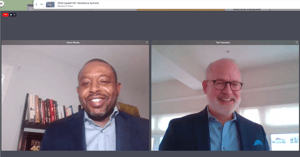 During Session III, Ted Townsend, Chief Economic Development Officer at Greater Memphis Chamber talked with Kevin Woods Memphis Market President of Blue Cross Blue Shield of TN, on the connection between economic development and workforce development. Ted emphasized that at the Chamber we are focused on building a diverse economy that can create more economic prosperity and improve the quality of life for all in our region.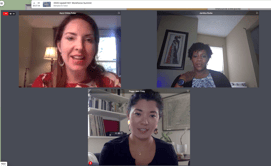 The last session of the summit focused on the Paradigm Shift in Wages: Creating a Skilled and Accessible Workforce. Moderator Rev. Peggy Jean Craig, Cumberland Presbyterian Church of Germantown, talked with presenters Apryl Childs Potter, Chief Marketing Officer at Greater Memphis Chamber, and Jamilica Burke, Chief Strategy and Impact Officer at Seeding Success, on the specifics on how employers and partners can work together to reconfigure the way we approach the gap in skills and wages.
Prizes and giveaways were provided by Peabody Hotel, Nike, Chicken Salad Chick and Kroger throughout the summit.
---
Sign up for updates and learn more about the UpSkill901 initiative at www.upskill901.com or click here.