On Tuesday, December 15th, the Greater Memphis Chamber celebrated its 20th Anniversary of the Annual Chairman's Luncheon (ACL), virtually. Sponsored by Baptist, First Horizon, Nike, Blue Cross Blue Shield of Tennessee, FedEx, Memphis Tourism, Regional One Health, Running Pony and Southwest Airline, The Luncheon focused on the Health of Memphis and It's Economy.
The Annual Chairman's Luncheon (ACL), while not a luncheon, nor in person, it was significant to mark the moment in the 182 year-old organization's history. Filled with great music and a highlight reel celebrating the past 20 years, ACL captured what the Memphis community has experienced over the past year through the pandemic and social justice.
All five hospital leaders, representing Baptist Memorial Health Care, Methodist Le Bonheur Healthcare, St. Francis, Regional One and St. Jude Children's Research Hospital, saluted the healthcare workers of the Memphis community. Former Chairman of the Board and President of the Americas for FedEx, Richard Smith, shared with the audience the successful first day of delivery of the vaccines world-wide.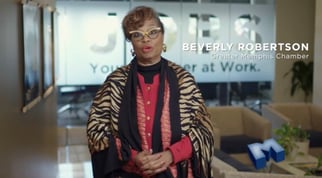 Chamber President and CEO, Beverly Robertson, introduced recommendations brought forth from activists, business leaders and the faith-based community. Current Chamber Chairman, Willie Gregory, came to the audience from Frayser where Nike's global logistics center is located and the new Amazon facility has been built. The show rounded out with two great talents, Sam White, son of Chief Public Policy Officer Bobby White and Ted Townsend, Chief Economic Development Officer, in his own words walking in Memphis with his blue-suede shoes.
Over 20 Chamber members helped celebrate the work of the Chamber that was accomplished in 2020.
Watch Video
The show ended with a highlight from a past show featuring the St. Jude Children's Choir singing "Angels Among Us." Special thanks to Jonathan Epstein and the Running Pony Team for helping us put together a remarkable show.