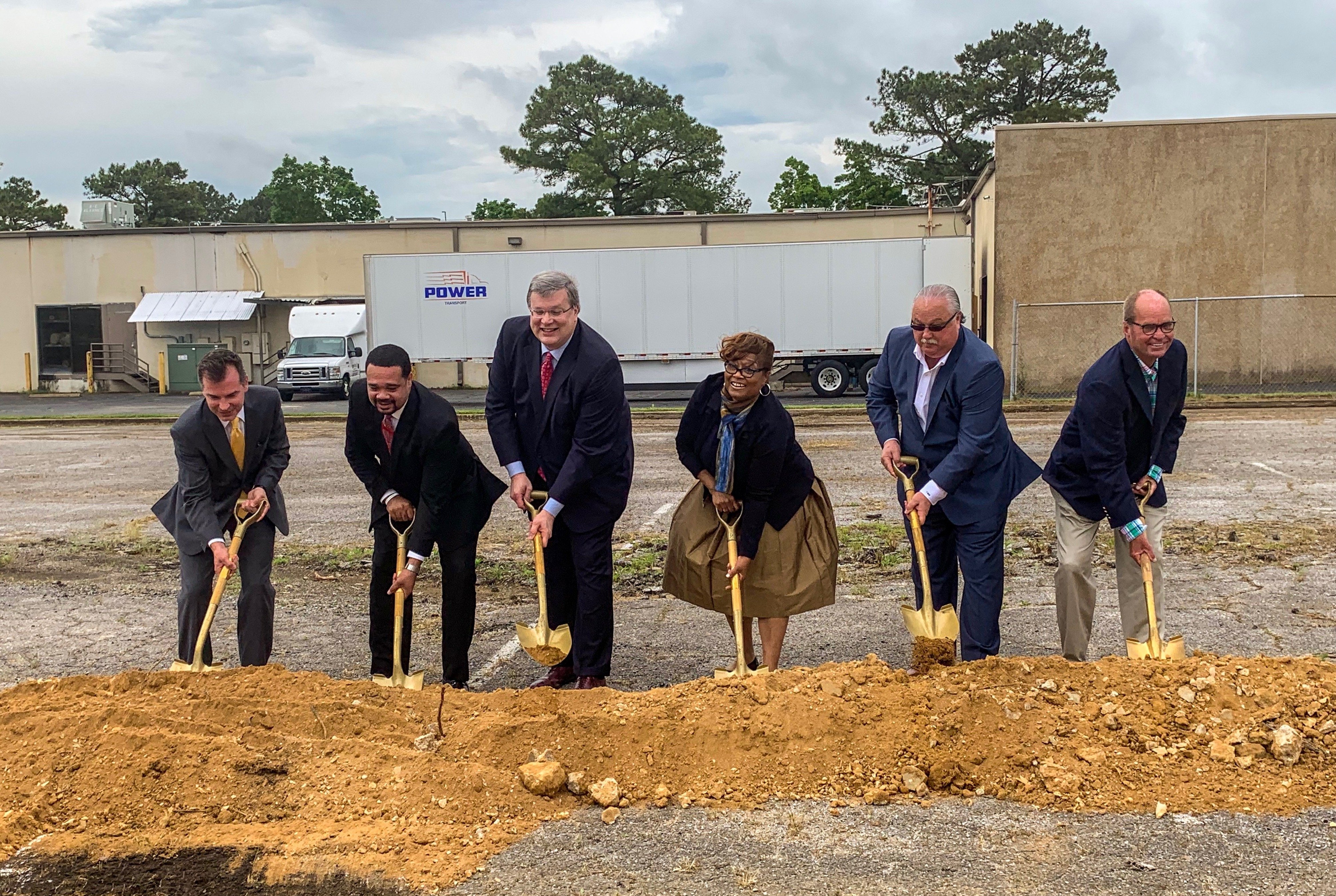 City of Memphis Mayor Jim Strickland and Power Transport Principle President and CEO Tony M. Maranise broke ground today on the company's new headquarters in Whitehaven, located at 3036 Directors Row.
Power Transport will invest over $2.5 million in new capital investment and create 26 net new jobs – with 40,000 sq. ft. in office space.
"The backbone of the Memphis economy is logistics and distribution, and we rely heavily on our homegrown business community," Mayor Jim Strickland said. "Power Transport is a prime example of a strong business playing a big role and growing their business right here in their hometown. Looking forward to working with them as they continue to expand their company."
Power Transport is a transportation and logistics company with a fleet of more than 140 trucks on the road. Currently located in Memphis, the company services 27 other markets in the Southeast and Midwest United States. Since the company has outgrown current facilities, it is planning to add 26 direct permanent employees along with new contract drivers and is exploring options in the Mid-South region for expansion.
While vehicle maintenance will remain at its current facility on Viscount Avenue, Power Transport will restore a site in the airport area for its corporate office and power freight services (brokerage & intermodal) activities. With the additional purchase of over 40,000 sq. ft. of office space, this project will activate a property that has been vacant for almost eight years and substantially underutilized for more than 15 years.
"THIS LOCATION IS A PERFECT FIT FOR US," SAID MARANISE. "IT GIVES US THE ABILITY TO GROW AND SERVE OUR PARTNERS WITH THE BEST SERVICE IN THE INDUSTRY. WE ARE CLOSE TO OUR CUSTOMERS, FEDEX, THE INTERSTATE AND RIGHT IN THE MIDDLE OF THE RAIL/CONTAINER YARDS. MORE IMPORTANTLY, WHITEHAVEN IS HOME. WE GREW UP HERE, WENT TO SCHOOL HERE AND EVEN HAD OUR FIRST JOBS HERE. I CAN'T IMAGINE BEING ANYWHERE ELSE."
"EDGE was pleased to assist Power Transport with its expansion in Memphis," said Reid Dulberger, EDGE President/CEO. "This project will bring a long-vacant and underutilized property near the Memphis International Airport into use and create 26 new jobs in a distressed area."
"We couldn't be more excited about Power Transport's expansion not only in Memphis, TN, but, in Whitehaven," said Beverly Robertson, President & CEO of the Greater Memphis Chamber. "One of our top priorities at the Chamber is for our members to do business with each other. Power Transport's growth and creation of new jobs is an example of what a company can do when we support each other."