Like most of us, Jeremy Simpson had lots of time on his hands during the Covid lockdown in 2020.
He also happened to have a bike. And since biking is an outdoor activity with natural social distancing, it was something positive he could do to occupy his time and his mind during those dark times.
Jeremy, the founder and CEO of Systems Technologies and a Greater Memphis Chamber Chairman's Circle investor, began biking with a group called Grind City Cycling, which was founded during Covid. "It was fun, just a bunch of guys riding, getting some exercise. We couldn't go to restaurants or the gym, and it gave us something positive to do," he said.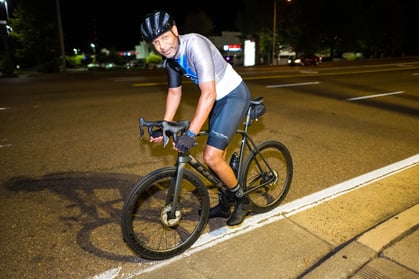 It was simply fun at first, Jeremy said, but then he started getting annoyed at being left behind by the group. "I've got to get a better bike, I thought," he said. "So I did. After that, I started to really see results."
And he hasn't stopped biking since. In fact, his cycling habit has only gotten more intense over time. "Cycling is A, great cardiovascular exercise," he said. "B, it's fun. C, it's expensive. And D, it's addictive."
Cycling isn't only good for your heart – it's also a good overall low-impact workout, since you use all of the major muscle groups as you pedal. You can adjust your level of intensity depending on your physical strength, your mood, your time constraints and even the weather. Cycling is also good for mental health, reducing conditions like depression, stress and anxiety – which made it particularly popular during Covid.
When he considers all those health benefits, "that's where it becomes addictive," Jeremy said. "You're not only working your lungs, legs and core, at the same time you're having fun being healthy. I've always enjoyed being an athlete, and cycling is a way to have fun and stay in shape at the same time."
There are plenty of biking events to feed that addiction. Jeremy's participated in a Labor Day ride in Atlanta with 2,000 cyclists riding between 30 and 100 miles a day over the three-day weekend. He's also done a 101-mile ride along the Natchez Trace Parkway. There are other rides for enthusiasts, too, like the Ride to Rosemary – a group ride from Memphis to Rosemary Beach, Fla. – and the women-focused She to Sea ride that follows a similar route and raises money for the West Cancer Foundation.
Cycling events can be serious, certainly, but they can also be fun. Grind City Cycling hosted its annual Paint the Streets Pink ride this month, which raises money for breast cancer research and awareness and encourages people to get out on their bikes. "Everybody wears pink and decorates their bikes in pink," said Jeremy. "We paint the streets pink and raise awareness of the fight against breast cancer during Breast Cancer Awareness Month."
Regarding the expense, Jeremy said high-quality bikes range from $1,000 up to $18,000 or more. "And that doesn't include specialized pedals, shoes designed specifically for those pedals, a Garmin to track speed and mileage, bibs, shorts, jerseys and lights that could light up a whole street so people see you coming," he said. "It's a big expense, yes. But obviously lots of us think it's well worth it. I've never regretted the money I've spent on cycling."
Jeremy isn't the only Chairman's Circle investor who's an avid cyclist. Andre Gist is so committed to the sport, Jeremy said, that he's got bikes in both Memphis and Jackson, Tenn. Gist is CEO of Manufacturers Industrial Group, which has offices in both cities.
Jeremy offers this advice for anyone interested in exploring cycling:
"Be prepared to get into a sport that is gonna actually be fun. Be prepared to get into a sport that will allow you to establish a lot of different relationships, because it's a totally different world."
"Be prepared for the expense. It's an investment. But it's a good investment. You'll never regret it."
"Always, always, always remember to use safety first. We get caught up in going fast or maintaining momentum through intersections. If you're safe, it'll be fun."
Jeremy said beyond the physical benefits of cycling, there's a mental aspect that transitions from cycling to the workplace as well. "If you're on a ride for three hours, it takes a lot of concentration," he said. "You've got to be aware of your surroundings. You're clipped in, so if anything causes you to fall, you're going down. You've got to stay in the right frame of mind and focused. That forces you to be aware of everything around you.
"You have to stay sharp, on point. Concentration, shifting gears, long rides, fatigue – all those mental aspects transfer to business. Some days in business aren't great days. There are long hours, days when you have to focus to ensure you get the bid out and deliver the right products and services to customers. If you have a breakdown, the customer suffers. Biking is the same. I had a fall, and if it weren't for my helmet, I'd probably have suffered a concussion. That takes a toll and is challenging. But from mental aspect, it's good for both your personal and your professional life."
Jeremy said there's a Grip and Grind group that introduces beginners to the sport. They meet Sunday afternoons at 4 near the Penal Farm at Shelby Farms. He encourages people to explore the sport with a group. "You'll never regret it," he said.
About The Chairman's Circle: The Greater Memphis Chamber Chairman's Circle is a group of more than 160 C-suite business leaders working to spur economic growth, develop the workforce, and improve the business climate throughout the region. Learn more about the group and its task forces here and follow the Chairman's Circle on LinkedIn.