The Greater Memphis Chamber Ambassadors Program is made up of committed professionals who represent Greater Memphis to companies from around the world. Learn more about the Ambassadors Program here.
Marcus Jackson has worked in youth and public services his entire adult life but has also managed to keep his entrepreneurial spirit strong.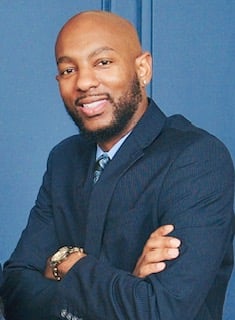 Upon high school graduation Marcus worked as a summer intern for BRIDGES, while also selling Mary Kay and Primerica insurance. It was here where, while working with the bridge builders' program, his passion for servant leadership developed. Marcus graduated from the University of Memphis with a degree in Nonprofit Development and Administration.
Also armed with a Masters of Secondary Education and several industry certifications, Marcus was a teacher and coach in the Shelby County School system for nine years. During his tenure at Sheffield High School he coached the Knights track and field teams to four city championships, four sectional championships, three top 5 state finishes, and the only state championship in school history (2010-2014). During his state championship run in 2012 coach Jackson was named Coach of the Year in Memphis Best of the Preps, TSSAA, and a national finalist for BROOKS RUNNING Coach of the Year award.
Although he has retired from teaching as a profession, he continues to pour into youth as a mentor for LITE Memphis, Memphis Grizzlies Scholars, and Memphis Junior Achievement. Through his company, Luxx Events, Marcus has worked corporately or as an entrepreneur for the City of Memphis, Shelby County Schools, International Paper, YELP, MLK50, BRIDGES, and a host of other companies.
In his new role, he has the challenge of introducing axe throwing to the mid-south with Craft Axe Throwing Memphis and Axe n Chill in Oakland, TN.
Marcus is currently working on an initiative to bring local small businesses together through the Team Building Exchange Program.
You can follow Marcus and all his endeavors on his podcast "The BusinessMane" set to debut Dec. 28, 2022, on Spotify.