MEMPHIS, Tenn. (Wednesday, 1/8/23) – The Greater Memphis Chamber today joined MSS Steel Tubes USA LLC, Tennessee Gov. Bill Lee, and other elected officials in announcing that the company plans to invest $6 million to open its first U.S. steel tubes production plant in Memphis, creating 129 jobs.
MSS Steel Tubes USA LLC is a subsidiary of Portugal-based MSS Steel Tubes SA, which is owned by Portugal-based Metalogalva Group in partnership with Brazil-based Soufer Group. Once MSS Steel Tubes becomes operational at 4129R Outland Rd., near Lamar and East Raines Road, companies within the Metalogalva Group will employ more than 1,800 people across production facilities in four continents.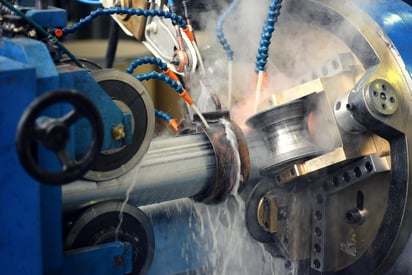 "We are thrilled to open this new plant in Memphis subject to approval of local programs," said Margarida Caetano, CFO of Metalogalva. "Our business is heavily reliant on quick, affordable, and reliable transportation, and no city fit our needs better than Memphis. This region is a destination of choice for manufacturers, and we're excited to become part of the fabric of this community."
The decision to locate in Memphis will help MSS Steel Tubes better serve its U.S. customer base of solar panel manufacturers. Because of its central location and distribution prowess, Memphis is expected to provide a more cost-effective and efficient way to meet and exceed both production and delivery times.
Today's announcement will further the region's progress toward its Prosper Memphis 2030 goals set by the Chamber: 50,000 additional jobs, 700 additional advanced industry companies, and 20,000 annual graduates in the fields of science, technology, engineering and mathematics (STEM) by the end of 2030. The Chamber has set minority inclusion targets for its goals in both jobs and STEM graduates.
Metalogalva worked closely with the following economic development partners: the Greater Memphis Chamber; the Tennessee Valley Authority (TVA); Memphis Light, Gas & Water (MLGW); the Economic Development Growth Engine for Memphis & Shelby County (EDGE); the City of Memphis; Shelby County government; and the Tennessee Department of Economic and Community Development (TNECD).
ADDITIONAL QUOTES
Stuart McWhorter, Tennessee Department of Economic and Community Development Commissioner: "Centrally located in the Southeast and a hub for logistics, we can't think of a better location for MSS Steel Tubes' first U.S. production facility than Memphis, Tennessee. We appreciate MSS Steel Tubes for placing its confidence in Shelby County and look forward to the growth and prosperity that this project will bring to the region."
Jim Strickland, mayor of the City of Memphis: "We're so happy to welcome MSS Steel Tubes USA LLC to Memphis. Bringing good jobs to our community is always a top priority, and with this announcement, that's exactly what we're doing. Thank you to MSS Steel Tubes USA LLC and their team for this investment in Memphis."
Lee Harris, mayor of Shelby County, Tennessee: "I celebrate this news of another large economic investment coming to Memphis and Shelby County. We are on a roll and this is another piece of great news for our local economy."

Ted Townsend, president & CEO of the Greater Memphis Chamber:

"Thank you to MSS Steel Tubes USA LLC for making this significant investment in Memphis.

The Greater Memphis region continues to be a juggernaut of steel production, and w

e expect more manufacturing projects to choose Memphis as we build up our innovation economy and establish the

Digital Delta a

s a global hub of inclusive jobs and advanced industries."
John Bradley, Tennessee Valley Authority (TVA) senior vice president of economic development: "TVA and MLGW congratulate MSS Steel Tubes USA LLC on its decision to establish operations and create new job opportunities in Memphis. Supporting companies, like MSS Steel Tubes USA LLC, that create jobs and investment in the region is fundamental to TVA's mission of service. We are proud to partner with the Greater Memphis Chamber, Memphis and Shelby County's EDGE, and the Tennessee Department of Economic and Community Development to further that mission and celebrate this announcement together."
About Metalogalva Group: Founded in 1971, the company Metalogalva – Irmãos Silvas S.A. is the oldest company of the VigentGroup and has industrial companies in four continents (Europe, South and North America, Africa and Middle East) and industrial units in 17 locations in nine different countries, occupying a total area of more than 200.000m², having more than 2,000 employees. The reputation of Metalogalva exceeds its size, the result of sustained and continuous improvement, and dynamic carrier development of its people, are key factors in a globalization era, generating new challenges and opportunities. Metalogalva Group mission is to produce steel structures, consistently delivering the best products, maintaining the highest levels of service, and promoting responsible business and environmental management, welfare, motivation and safety of employees. Achieving maximum productivity, ensuring high quality standards for customer satisfaction, based on a culture of research, development and innovation of their products.
For more information about Metalogalva visit https://metalogalva.pt/en/
About Soufer: Founded in 1966, Soufer Industrial Ltda. is a company of the Soufer Group. Dedicated to the manufacture of steel products, tubes, sheets, profiles, metal tiles, thermo-acoustic tiles for varied and usual applications, it also develops innovative solutions in the use of steel products in Brazil for industrial, agro-industrial and civil construction areas. Souder's history is marked by serious and quality work, which allowed the company to create and acquire new technologies and companies, expanding its range of activity. Today has units in Brazil, in the states of São Paulo (São João da Boa Vista) and Minas Gerais (Cambuí), Rio de Janeiro (Pinheiral). The Soufer Group participates in a joint venture in Portugal to manufacture tubes, our brand present in Europe. Soufer serves all Brazilian and international markets, exporting its products to South America, Africa, and Central America. Soufer is a consolidated brand in the market that, with the constant improvement of its logistics system and high-quality standards, strengthens its commitment to customers, suppliers, representatives, and society, on a daily basis, developing a work of partnership and trust as strong as the raw material used in its business.
For more information about Soufer visit https://www.soufer.com.br/empresa
About the Greater Memphis Chamber: One of Memphis' oldest institutions, dating back to 1838, the Greater Memphis Chamber is a privately funded nonprofit that serves as the region's lead economic development organization and the "Voice of Memphis Business" on local, state, and national issues. The Chamber's mission is to relentlessly pursue prosperity for all — through economic and workforce development, pro-growth advocacy, and by providing support and resources to its investors, which include many of the region's largest employers. For more information about the Chamber, visit memphischamber.com and memphismoves.com. Also, follow the Chamber on Twitter, Facebook, LinkedIn and Instagram, and sign up for its weekly newsletter, Memphis Fourword.