Below is a collection of resources available to businesses in the Greater Memphis region as they prepare for phased reopening. For full details of the Back-to-Business Plan and all phases, visit https://backtobusiness.memphistn.gov.
---

Quick Guide to Reopening Phases 1-3
This resource includes an overview of each recommendation for all business types eligible to be open in Phase 1. The guide outlines guidance for environmental, behavioral and procedural changes recommended for repopulation of workspaces permitted under Phase 1 of the Back to Business plan.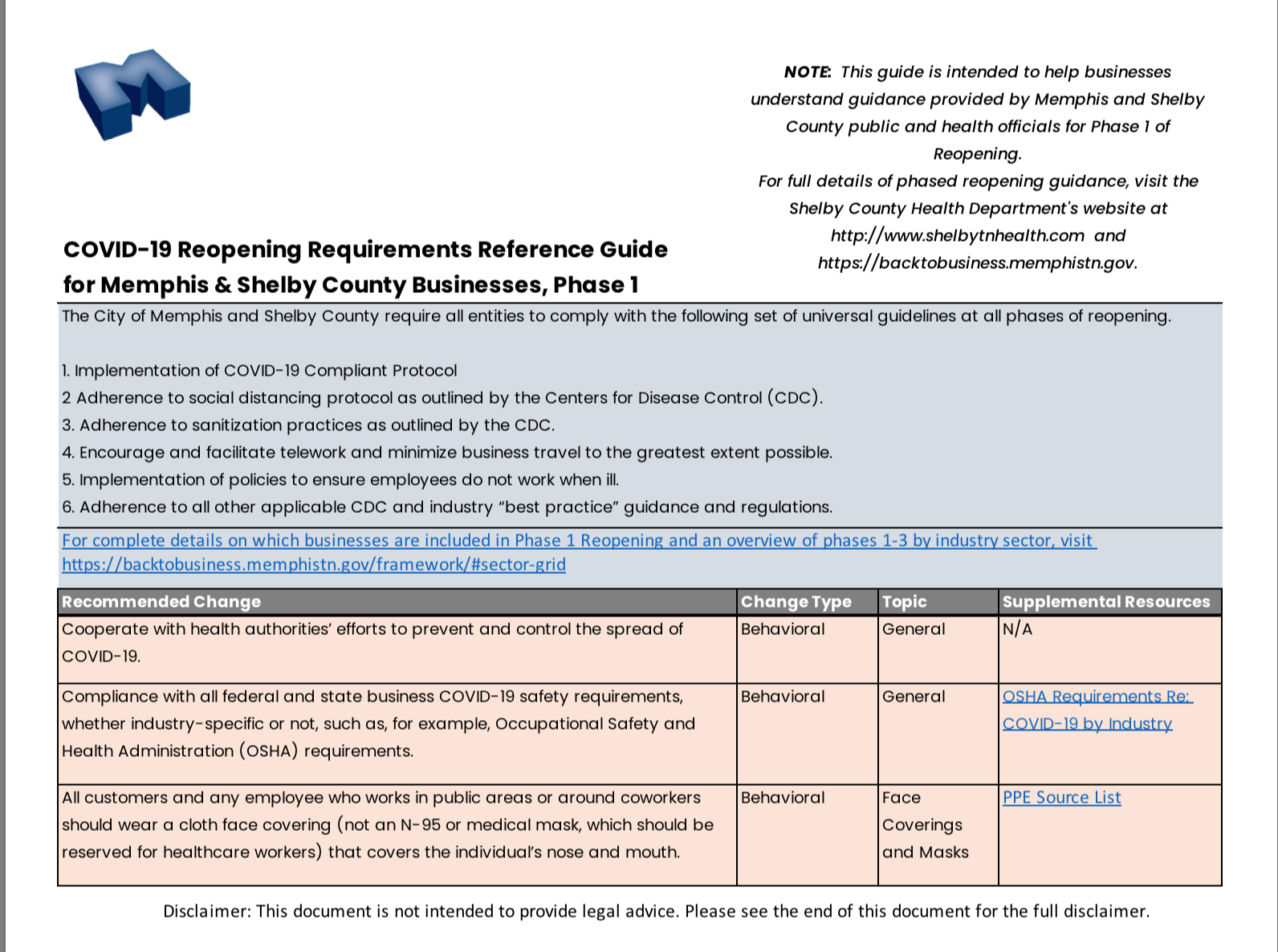 Quick Guide to Phase 1 Reopening Recommendations


Cheat Sheet by Industry
A bullet point list of each industry approved for reopen under Phase 1 of the Back to Business Plan that includes industry-specific guidance on reopening protocols. The guide also references which business type are not included in Phase 1 of the reopening guidance.
Cheat Sheet by Industry for Phase 1
Guidance for Preparing Workspaces for Repopulation
This post offers links and some suggestions and best practices for employers to consider as they plan to repopulate offices. Information here includes suggested social distancing in the workplace and procedures for evaluating workspaces.
Tips for Getting Workspaces Prepared for Phase 1 Reopening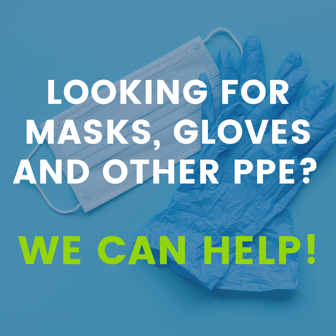 List of Reopening Supplies and Signage Resources
A frequently-updated list of local sources for items and services helpful during reopening planning. The list includes vendors for Personal Protective Equipment, Sanitation and Cleaning products and services as well as signage and printing services.
List of PPE, and Sanitation Suppliers and Signage Resources
Tennessee Pledge Toolkit
The State of Tennessee offers a free toolkit for businesses including printable signage and more.

This page will be updated regularly with additional resources, guidance and best practices for helping businesses reopen in Phase 1. For more resources, visit our Business Resources Center.
free webinars
How to Restart Your Business after COVID-19 | Friday, May 29 at 12 pm CST
COVID-19 Webinar: Return to Work Strategies for Employers
Other Resources
Shelby County Health Department
For answers to specific questions, call the Shelby County Health Department COVID-19 Call Center at 833-943-1658 (available to take calls 8:00am-4:30pm, Monday-Sunday).
After hours leave a message and we will return your call the next business day.
Tennessee COVID-19 Public Information Number 877-857-2945 Available 10 a.m. – 10 p.m. CST Daily
Back to Business Website for Memphis & Shelby County
UTCIS Return To Work Recovery Guide
---
Have a question about reopening? Let us know.