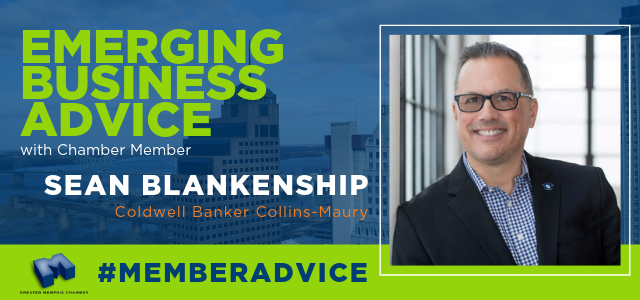 It takes hard work, dedication and sometimes good old fashion luck to build a strong, profitable business. One of the best pieces of advice for entrepreneurs and emerging business owners is to get smart insights from people who have been there before.
See what Sean Blankenship, President of Coldwell Banker Collins-Maury has to say on how he keeps his business growing.
What do you wish you knew when you started your business?
Invest in people. Surround myself with smart and talented people. At the end of the day, my peers, my team, the people are the only thing that matters.

What's the best advice you ever received?
Never look the other way regarding problems. They will never simply go away. Address issue immediately and directly.
What's your best time management hack?
Time block everything in my Calendar. Personal and business related items all go into the calendar. Ultimately only you can hold yourself accountable.
Any other advice or tips you'd like to share?
You are never any younger than this very moment. Live everyday like it's your last.
---
We've asked business owners from across the city to share some of their best advice on starting and growing their small business. Want to learn more insights from other Chamber members? Follow the hashtag #MemberAdvice on our social media channels and read more here on our blog.