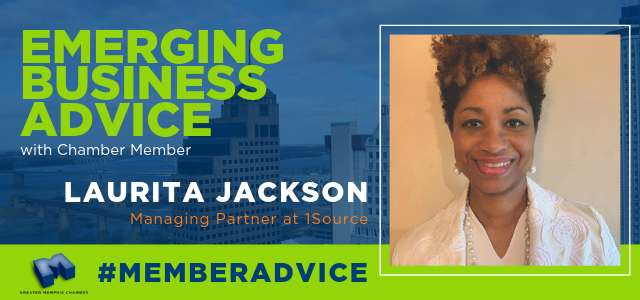 It takes hard work, dedication and sometimes good old fashion luck to build a strong, profitable business. One of the best pieces of advice for entrepreneurs and emerging business owners is to get smart insights from people who have been there before.
See what Laurita Jackson, Managing Partner at 1Source has to say on how she keeps her business growing.
What's the best piece of advice you ever received?
The best piece of advice I have received is the critical importance of having clear, specific, written goals for every aspect of my life. This provides focus, clarity and a proactive mindset – an understanding of what success looks like AND how to know when it is attained.
What's the one thing you wish you'd have known when you started out in business?
Be persistent, be flexible and don't EVER give up. Keep everything in perspective – remember what is important. I also wish I had known the depth of my strength and tenacity that would see me through the difficult times.
Who is your role model and why?
My father is my greatest role model. A strategic thinker, avid reader, world traveler and arts patron, he is truly a renaissance man who pursues life with passion. He achieved personal and professional success on his terms, despite the limitations society placed on him as a Black man coming of age in the south.
What's your biggest accomplishment to date?
Rearing 3 amazing children along with my husband, while growing my business and making a contribution to our community.
---
We've asked business owners from across the city to share some of their best advice on starting and growing their small business. Want to learn more insights from other Chamber members? Follow the hashtag #MemberAdvice on our social media channels and read more here on our blog.