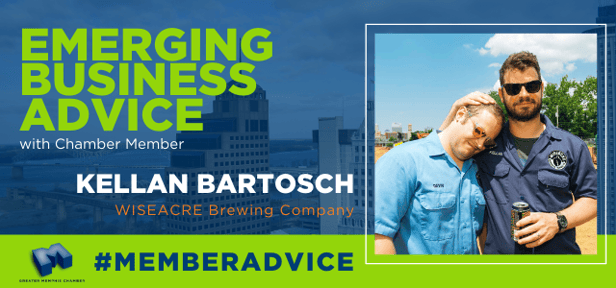 It takes hard work, dedication and sometimes good old fashion luck to build a strong, profitable business. One of the best pieces of advice for entrepreneurs and emerging business owners is to get smart insights from people who have been there before.
See what Kellan Bartosch of WISEACRE Brewing Company has to say on how he keeps his business growing.
What's the best advice you ever received?
Great things take time or Rome wasn't built in a day...not sure if those words were ever used verbatim to me, but the message was definitely delivered. Acting on an impulse or observing something from the sideline isn't preparation. Don't be afraid to get your hands dirty and be sure to learn something inside & out before taking a risk. You'll whittle away at your concept and learn plenty about yourself in the process.
What do you wish you knew when you started your business?
That hiring was a vital part and a skill we could improve upon. We've definitely had some great hires who are vital to our success, but having someone in the wrong position or not utilizing their skills or other issues can be extremely challenging. Being thorough in hiring and honing skills in that department can remedy much.
What's your best time management hack?
Write it down! If thoughts and plans are not captured somehow they disappear into the ether damaging productivity.
Any other advice or tips you'd like to share?
Get a mentor and/or a peer group. Both have been invaluable for myself and my brother. We're only able to have them because of our willingness to learn the ropes from the ground up in our industry
---
We've asked business owners from across the city to share some of their best advice on starting and growing their small business. Want to learn more insights from other Chamber members? Follow the hashtag #MemberAdvice on our social media channels and read more here on our blog.