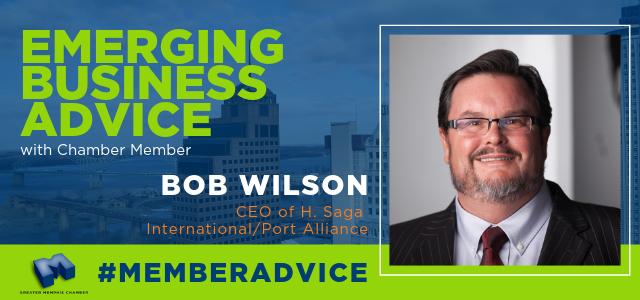 It takes hard work, dedication and sometimes good old fashion luck to build a strong, profitable business. One of the best pieces of advice for entrepreneurs and emerging business owners is to get smart insights from people who have been there before.
See what Bob Wilson, CEO of H. Saga International/Port Alliance has to say on how he keeps his business growing.
What advice would you give someone who is thinking of starting a business?
First and foremost, if you are thinking about being an entrepreneur, make sure your home life is in order. I have not seen that advice in any "how-to" books or manuals, but it is incredibly important! Every risk you take, those extra hours you work, the burdens and stress you bring home is also borne by your loved ones and family.
If you can't wake up in the morning and say, "I've got the best spouse/partner in the world," don't go out and make it more difficult—they bear every bit of that burden. If it isn't right at home, don't give it a try. I, personally, have the best partner in the world in my wife, "Jean".
What's some advice about smart growth strategies?
Maintaining successful growth is twice as hard as starting up. Once you become successful, you have a network of employees and people who invested in you—and they're all depending on you. As you become successful, be prepared to control your growth, be thinking ahead about the capital demands that growth puts on your company.
Capital needs are different at different times, and capital solutions are wide ranging in options. You have to consider the right rate, the right time, the right speed. Study, study, study. That's not sexy, but you need to know there's lots of different money out there. You don't want to take the wrong money.
What are some of the key requirements for building a successful business?

To be a long-term, successful, repetitive entrepreneur—spend time mitigating risk. The reality is, you can be successful as a startup or a flash in the pan. If you want long-term success, mitigate risk, but know that it's one of the most intellectually exhausting and time-consuming tasks. So you either have a good partner who knows risk mitigation or start reading up on it. Risk mitigation isn't sexy, but it needs to be a key strength right after the willingness to take a risk.
---
We've asked business owners from across the city to share some of their best advice on starting and growing their small business. Want to learn more insights from other Chamber members? Follow the hashtag #MemberAdvice on our social media channels and read more here on our blog.