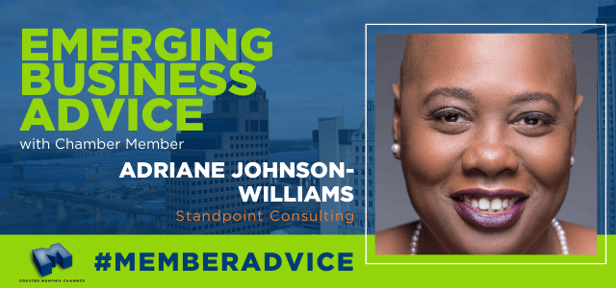 It takes hard work, dedication and sometimes good old fashion luck to build a strong, profitable business. One of the best pieces of advice for entrepreneurs and emerging business owners is to get smart insights from people who have been there before.
See what Adriane Johnson-Williams of Standpoint Consulting has to say on how she keeps her business growing.
What's the best advice you ever received?
Value the people who work for you. Respect their humanity; make room for it. Do it because it's the right thing to do, but there is a benefit. They'll show up for you when you don't even know you need them in ways you never expected.
What do you wish you knew when you started your business?
I had no idea how tedious building a business could be. "Doing" the business is thrilling and fulfilling. "Building" the business requires attention to details I didn't know existed until I was confronted with them.
What's your best time management hack?
If I have to do it, it has to have a spot on the calendar. The end.
Any other advice or tips you'd like to share?
Integrity is the relentless pursuit of honesty, authenticity, and reliability. Our humanity keeps it just out reach, but those who are in dogged pursuit of it are the ones you want as partners and friends.
---
We've asked business owners from across the city to share some of their best advice on starting and growing their small business. Want to learn more insights from other Chamber members? Follow the hashtag #MemberAdvice on our social media channels and read more here on our blog.