Todd Smith is the Vice President of Finance of MicroPort Orthopedics. The Arlington location is the company's global headquarters for the orthopedic division of MicroPort Scientific. Locally, they employ about 500 people who work in their distribution center, administrative building, and in the manufacturing facility, where they make hip and knee implants sold around the world. They employ an additional 250 employees internationally in offices in Europe, Japan, Canada, and Costa Rica.
Each year MicroPort Orthopedics and its local employees take part in the Walk to Cure Arthritis, raising money for the Arthritis Foundation --- fitting since the company prides itself on working to help patients worldwide live better lives by improving their mobility.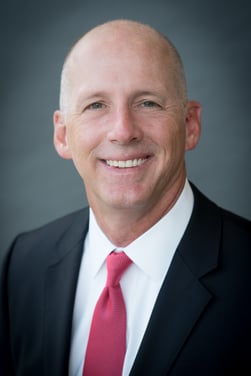 Todd grew up in Clinton, MS, a small town outside of Jackson. He was recruited to Rhodes College to play football. That's where he fell in love with Memphis and his future wife, Gina. After graduation they both went into accounting. He began his career as an audit staff in the Memphis office of KPMG, later joining the team at Vision America and then Wright Medical Technology. MicroPort purchased the assets of Wright in 2013.
What most excites Todd about the Memphis area is what's to come with the development of Ford and SK Innovation's Blue Oval City project at the Megasite of West Tennessee. As a Jackson, TN, resident who works in Arlington, he'll have a unique perspective on the growth of the region, as the historic project comes to life. "There's so much anticipation about the positive changes that are coming with Blue Oval City. Geographically, MicroPort Orthopedics is probably the closet significant employer to that site. We're already talking about it, anticipating the opportunities and challenges." Memphis International Airport's newly opened Concourse B is also exciting. MicroPort Orthopedics brings a lot of people into Memphis and he says they're getting great feedback on the airport's modern amenities.
Todd and Gina are empty nesters. They have three children. His daughter is married and lives in Orlando; his son lives and works in Memphis; and his younger son is a sophomore at Ole Miss. Todd frequently travels around the world for work, so when he wants to relax, he enjoys meeting his children at their home on nearby Pickwick Lake. He also plays golf and the guitar.