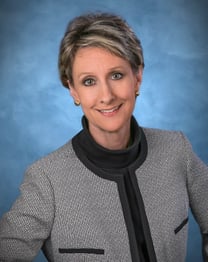 Tina Walker is the Chief Operating Officer of Patriot Bank. It's a position she started in September 2019, after working in the Shelby County Trustee's office for 27 years. The transition from public sector to banking was a natural one: Her first job after graduating from Union University was working in a small bank in Jackson, Tennessee. Now with an extensive track record in leadership and management within the financial services industry, Walker is a key member of Patriot Bank's management team.
Patriot Bank will celebrate its 20th anniversary in 2021. Their 8 branches are spread throughout Shelby and Tipton Counties. The newest branch opened in the heart of Raleigh last month, across from the new Raleigh Springs Civic Center. Walker says the Raleigh location is "positioned beautifully for people to have access to our services. We feel like there is a niche there." She described joy in watching development take off around the new Raleigh branch. She sees that growth each day, on her drive to the bank's corporate headquarters in Barretville.
Patriot Bank prides itself on providing "downhome banking the way it should be." While it promises fast, friendly personal service, Walker says "community service is at the heart of what we do at Patriot Bank. We want to be more than a bank. We want to be a partner, know our customers' names, schools, churches, and non-profits. We are there for the community." In short, Patriot wants to be a good neighbor and financial partner.
Walker describes herself as a lifelong learner who loves to travel and is looking forward to pairing research of her ancestry with a trip to England, Scotland, and Ireland as soon as pandemic-related travel restrictions ease. Her favorite stress reliever is playing a round of golf with close friends. Walker is a deacon at Second Presbyterian Church and is head of the stewardship committee. She attributes her success to the great opportunities provided to her and great mentors. "Networking is an equipping type of thing," she said. "We need strong support systems so we can succeed, and we need to empower other people." Her guiding principle "is to try to always do the right thing. My hope is that I would empower others to do the right thing and pour into their life that which is rich and meaningful."
---
The Chairman's Circle is made up of local leaders whose investment in the Chamber drives transformational change in Memphis. With more than 100 members representing more than 100,000 employees, members of the Chairman's Circle use their collective strengths as community and business leaders to create a clear path to positive change in Memphis and the Mid-South.
Interested in leading transformational change in our community?
Find out how your investment in the Chairman's Circle can help us #MoveMemphisForward.