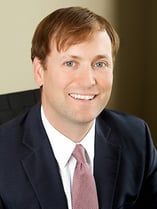 Gil Uhlhorn joined Bass, Berry & Sims in 2006. The law firm has more than 300 attorneys in four cities, including Memphis, Nashville, Knoxville and Washington, D.C. He became a managing partner of the Memphis office in June and is proud to share that "public service is an important part of who we are as a firm at Bass, Berry & Sims. In 2020, attorneys in our Memphis office invested an average of 50 hours of pro bono support to strengthen families, empower communities and protect civil rights." That work lead to the TN Supreme Court naming the Memphis office as a 2021 "TN Supreme Court Recognized Law Office for Justice." In addition, at the end of last year, the Memphis office announced a diversity scholarship program in partnership with the University of Memphis. The goal is to grow and strengthen a diverse local legal community. The first scholarship candidate started at the U of M this fall.
Gil says, "what's great about Bass, Berry & Sims is the firm's involvement in seminal projects which have been transformational for Memphis." There are 10 lawyers on Bass Berry & Sims' Memphis commercial real estate team. They've helped in the revitalization of Overton Square and Highland Row, the expansion of Campbell Clinic, and in the creation of Bass Pro, Central Station, and the Memphian Hotel. He describes his personal practice as "real estate heavy." He helps real estate developers with acquisitions and sales, and capital needs. He enjoys seeing the results of his work sprout up across Memphis, the most dramatic being the Crosstown Concourse.
The Memphis University School Owl grew up in Midtown. He always knew he'd return to Memphis after getting his law degree, because he loves the city and has so many friends and family living here. It's the main reason he chose University of Tennessee College of Law, after completing his BA in History at Washington and Lee University. He never envisioned himself in a courtroom and since his family has been in the real estate business for years, naturally gravitated to business transactions.
Gil and his wife, Kathy Gale, have 15-year-old and 17-year-old sons, both of whom attend MUS. He enjoys spending time doing anything outdoors, especially hunting, fishing and being on the water at Horseshoe Lake. An avid reader, his favorite genre is historical fiction and biographies. He's currently reading "The Last Duel: A True Story of Trial by Combat in Medieval France" by Eric Jager, the subject of the newly released movie by Ridley Scott, based on a screenplay by Matt Damon and Ben Affleck.
He hopes people describe the Memphis of the future as innovative and forward-thinking. Asked where he sees the region in 10 or 15 years, he says "Memphis still has a lot of runway in front of it, and smart people who are working hard in the public and private sectors to continue to improve our whole economic standing."
---
The Chairman's Circle is made up of local leaders whose investment in the Chamber drives transformational change in Memphis. With more than 100 members representing more than 100,000 employees, members of the Chairman's Circle use their collective strengths as community and business leaders to create a clear path to positive change in Memphis and the Mid-South.
Interested in leading transformational change in our community?
Find out how your investment in the Chairman's Circle can help us #MoveMemphisForward.