Sylvester Tate is the President & CEO of Tate Computer Systems. The company has a retail location on Hacks Cross that services Windows and Apple Computers. TCSi is the only Apple Authorized Service provider in the Memphis area. TCSi also has a B2B division that remotely manages companies' networks and is a value-added reseller for many major brands.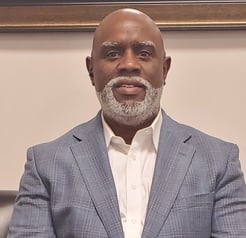 Tate started his company 34 years ago repairing typewriters, calculators, and cash registers. As his business grew, his early customers included MLGW, Kroger, the University of Memphis, and UT Medical Billing, which at the time used thousands of calculators and typewriters. The company evolved and transitioned into selling and servicing custom computers in the early 1990s as its customers' needs and technology changed. He says, "I wasn't attracted to IT; IT was attracted to me."
Tate grew up in rural Somerville, Tennessee. After graduating from Fayette-Ware High School, he studied welding at Tennessee Technology School. Then he pursued being a machinist, attending classes at State Technical Institute. He decided to enlist in the military so he could go back to school and continue his education. He says joining the Navy was the best decision he ever made. It afforded him the opportunity to travel the world and study aviation avionics and electronic technology. After leaving the Navy, he worked for the UofM while continuing his studies. It was during this time that he started TCSi.
Tate Computer Systems is the only Memphis-area Zebra Authorized Service Provider and clients include the Shelby County Sheriff's Office and the South Carolina Ports Authority. The rugged tablet market is an area he plans to grow. Within the next month, his company will offer Omnilert, a gun detection system that can be installed in existing security cameras in the hallways and door entrances of churches, schools, and companies. It uses artificial intelligence to distinguish whether a gun is being carried by law enforcement or a potential bad actor.
Tate joined the Chairman's Circle "because if you're not at the table and become part of the solution that drives the city's growth and direction, then you shouldn't complain when others are making decisions that affect you." He recently traveled to Orlando, Florida, as part of the Chairman's Circle Leadership Mission to see Valencia College's Accelerated Skills Training program for adults and study how a similar program could benefit Memphis.
Tate has five adult children. Sylvester II is the COO of Tate Computer Systems. Ricky works in the Hacks Cross location. His oldest daughter Felicia is an educator with Shelby County Schools and along with her sisters, Jada and April, manages the family business Reign Event Venue, hosting corporate, weddings, and social events.
When he's not working, Tate enjoys swimming, snorkeling, golfing, and cycling. He also enjoys traveling to foreign countries and has visited Israel, Turkey, Spain, France, Greece, Africa, Jamaica, Mexico, and Italy.