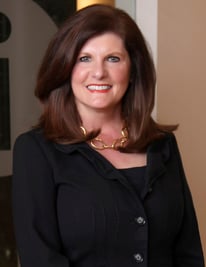 "The only thing I said I'd never do was banking because my mother was a banker, one of the very first women to be made a bank officer in her company," Susan Stephenson once told a reporter.
Never say never.
Not only was Susan Stephenson the first female to be named Chairman and CEO of a bank in the state of Tennessee, in 1998 she has co-founded Independent Bank of Memphis. Today Independent Bank has nine locations, nearly 200 employees and more than $800 million in assets and over a $100 million in capital. It is also the second largest bank in Shelby County.
In addition to being a stalwart of the Memphis business community, Susan has worked with numerous community groups and has shaped many important civic organizations in Memphis as well. Susan is the past Board Chair and member of the Executive Committee and Board of New Memphis, a past Chair of member of the Executive Committee and Board of the Women's Foundation for a Greater Memphis, Treasurer and Trustee of historic Elmwood Cemetery. She is a member of a member of the Baptist Women's Hospital Advisory Board, and a member of the St. Louis Federal Reserve Board. Dudley has served on numerous boards in both Tennessee and Arkansas and is currently serving as the Board Chair of the Family Safety Center, as well as serving on the Board of Directors of the National Civil Rights Museum.
Susan is a native of Chattanooga and graduated summa cum laude from the University of Tennessee.
---
The Chairman's Circle is made up of local leaders whose investment in the Chamber drives transformational change in Memphis. With more than 100 members representing more than 100,000 employees, members of the Chairman's Circle use their collective strengths as community and business leaders to create a clear path to positive change in Memphis and the Mid-South.
Interested in leading transformational change in our community?
Find out how your investment in the Chairman's Circle can help us
#MoveMemphisForward.