Stacy McCall is the President and CEO of ServiceMaster by Stratos, a professional janitorial company headquartered in Memphis. Founded in 1979, Stratos services event venues, offices, construction sites, medical facilities and more in West Tennessee, North Mississippi, and Tuscaloosa, Alabama.
The Mississippi State University alumna's professional career began as an engineer with Mobile Oil. Several years later Stacy and her husband Chris purchased a ServiceMaster franchise in Tuscaloosa. Just like many of Stratos' current team members, she grew within the organization through promotion. Over the years, Stacy has worn many hats, serving as Vice President of Administration and Program Development and Chief Financial Officer. In 2009, she was named President and CEO.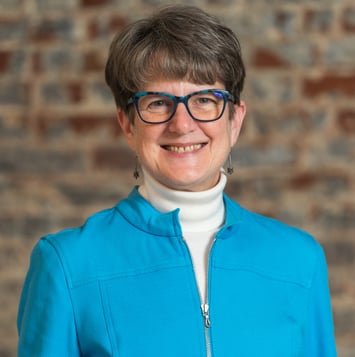 Stacy works in the business, on the business, and everything in between. You may see her in a boardroom making crucial business decisions one day, and the next she's sweeping alongside service partners. It all comes down to Stacy's chosen leadership style – servant leadership. To Stacy, leading effectively is not just about delegation or instruction. It means getting into the thick of things when needed, treating others with respect, and setting an example. And, because of the example Stacy has set, this mindset permeates all levels of the organization.
"To put it simply, servant leadership requires humility," Stacy said. "While working alongside one another creates a sense of trust and relatability, it also creates a rare opportunity. Leaders are able to capture moments they wouldn't otherwise see and directly acknowledge efforts. A leader's presence can inspire the team to rise to the occasion at hand, give them a feeling of being acknowledged or heard, and light a spark within them to reach new heights or to just keep going."
Stratos' desire to help people develop is a core value Stacy ensures is lived out in a variety of ways. Take the way existing team members are poured into, for example. Leadership training sessions are held to help them grow professionally. The goal is to prepare them for moving up within the organization.
One of the more personal, and perhaps most fruitful, ways Stacy helps her people is by providing resources through the Mid-South Employer Resource Network. MSERN is made up of local companies on a mission to improve the personal and professional lives of employees. The companies pool resources to hire what are known as success coaches. These coaches help member company employees, like Stratos', navigate valuable resources in the community. They assist with finding affordable housing and childcare, providing financial counseling, identifying transportation solutions and more.
Stacy has created an exceptionally strong company culture at Stratos. Her efforts, as well as her team's, have been recognized many times over the years, receiving awards like Memphis Business Journal's Super Women in Business and Small Business of the Year, and Inside Memphis Business' CEO of the Year. In 2019, Stratos received the Marion E. Wade Award, the highest honor a ServiceMaster franchise can receive.
Stacy and her husband Chris reside in Downtown Memphis and have four children. When she wants to unwind, she enjoys reading, traveling and scuba diving. Stacy truly appreciates the ocean's beauty and silence, finding it captivating even in the presence of hammerhead sharks.