Chris Cosby is the Market CEO of Saint Francis Healthcare – Memphis & Bartlett. Saint Francis Hospital-Memphis is a 479-bed full-service hospital offering a wide array of medical services, including its Center for Surgical Weight Loss, Joint & Spine Center, Heart & Vascular Center, Chest Pain Emergency Center, and Surgical Services which includes the Center for Robotic Surgery, Diabetes Center, and Cancer Center.
Saint Francis Hospital-Bartlett offers extensive medical and surgical services including a 24-hour emergency room, diagnostic imaging, critical care, cardiac care, oncology, urology, physical therapy, and a 16-bed Orthopedic/Spine Unit. Collectively, the two hospitals employ 1,458 people.
In June 2021, West Cancer Center and Saint Francis announced a partnership that would include the area's first ever urgent care clinic for oncology patients, to be housed at Saint Francis-Memphis. A dedicated oncology floor within the hospital provides patients with access to advanced technology.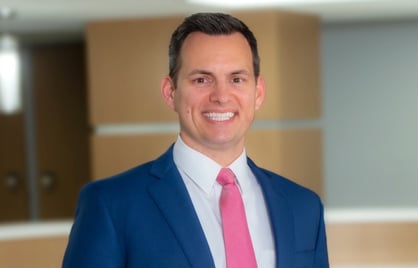 Chris graduated from Auburn University with a BS in Health Care Administration and then went on to obtain his MS and MBA from the University of Alabama at Birmingham. He started out at a not-for profit health system in Alabama before joining Community Health Systems. At just 26-years-old he became the COO of a small hospital in Louisiana. Over the next five years, he received two promotions with CHS and relocated to Alabama and then Georgia. In 2012, he joined HCA in Augusta, GA as the COO at Doctors Hospital of Augusta. In 2017, he was promoted to CEO of HCA's hospital in Orlando. He made the move to Memphis and Saint Francis in November 2021.
Chris says, "Saint Francis has been part of the Memphis community for nearly 50 years. In that time, we have seen our city's progress ebb and flow. I'm excited to be here at this time to see all the great things Memphis is doing and to have input in ways we can improve through the Chairman's Circle. I am excited to bring Saint Francis alongside the city's growth and renewal. From providing exceptional care to our patients to developing new technologies and recruiting physicians to expand our offerings, Saint Francis is set to make a positive impact on the healthcare footprint of the Mid-South."
Chris loves to be active. Most days he's up at 4:30 a.m., getting in a workout prior to starting his work day. He's competed in several Ironman events.
A Dothan, AL, native, Chris has ties to Memphis. His wife has family here and his college roommate in graduate school lives in Memphis. Coincidentally, that former roommate also works in healthcare and is now Chris' neighbor!
Chris and Margaret have been married for 15 years and have two children: Caroline, age 13, and Graham, age 11. Caroline has a strong passion for Cirque Arts and her goal is to be in Cirque du Soleil. Graham loves to play basketball and going to Grizzlies Games. Chris says, "My family loves Memphis and enjoys the vibrant, rich culture, great parks and sports and the amazing food. We just think people outside of Memphis need to hear about all of the good things going on here. I am proud Saint Francis is part of such a dynamic city. The possibilities for the future are plentiful, and I look forward to helping our health system grow well into the future. And then letting everyone know what Memphis is all about."