Katie Shotts is the CEO & Executive Vice President of the Memphis Area Association of REALTORS®. With 4,440 members, MAAR is one of the largest local REALTOR® associations in Tennessee. Founded in 1910, "The voice for local real estate" covers Shelby, Fayette, Tipton, Hardin, Hardeman and McNairy Counties. While MAAR's focus is serving and representing real estate professionals and offering training which allows members to maintain or renew their licenses, they also advocate for consumers and work to ensure legislation doesn't put up barriers to homeownership.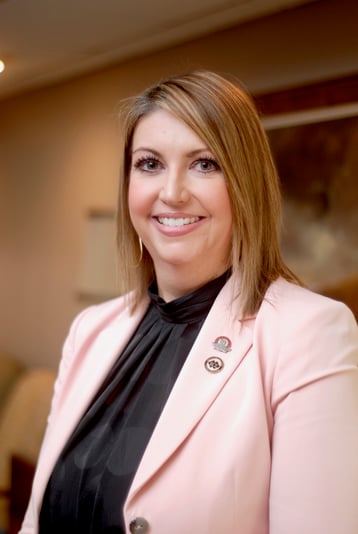 The Dallas, TX, native lived in Albuquerque, NM, during her middle and high school years. After graduating with a BA in communication studies from New Mexico State University, she spent seven years in Santa Fe, NM, working as an events coordinator for a bank and a community college, and then as the assistant to the director of the Georgia O'Keeffe Museum. She moved to Memphis in 2008 to be close to her parents and sister. That's when she started her first stint with MAAR. She served for seven plus years as MAAR's communications and commercial council director. Her professional journey then took her to Florida, where she served as the COO of the Pinellas REALTOR® Organization in Clearwater, then as the CEO at the Hernando County Association of REALTORS®. In 2019 she jumped at the opportunity to return to Memphis as the CEO & EVP of MAAR. She calls it her full circle moment.
Since returning to Memphis, she met and married the love of her life, and adopted twin rescue beagles, Ben and Jerry. Katie and her husband enjoy taking holiday jaunts to cities around the region, from Nashville and Knoxville to Pigeon Forge. They're looking forward to a future beach vacation in Cape Cod and a trip to see the 2024 Tour de France. A biking, running, and swimming enthusiast, Katie is a triathlete. She's done 3 half-Ironman triathlons and 16 half marathons, and she's signed up for the St. Jude half marathon this year.
When people hear she's lived in Santa Fe and St. Pete, they frequently ask why she chose Memphis. She says the answer is simple. "I'd much rather be here than those places because of the people. People in Memphis are so friendly. It really is a 'big, small town' where everyone knows and supports each other, whether we're rooting for the Grizzlies, the Tigers, or Blue Oval City. We have so much to be proud of. I'm inspired by stories of individuals in our community who take the initiative to start a project that will move Memphis forward and the improve quality of life."
Katie has served on various work groups and committees at the National Association of REALTORS® and was 2020 AE Institute Advisory Board Chair. She has served on the City of Memphis Health, Educational and Housing Facilities Board since 2020 and the Board's PILOT Committee beginning in 2022.
About the Greater Memphis Chamber Chairman's Circle: The Chairman's Circle is a group of more than 145 C-suite business leaders working to spur economic growth, develop the workforce, and improve the business climate throughout the region.Learn more about the group and its task forces here and follow the Chairman's Circle on LinkedIn.