Justin Farmer is the managing partner for Vaco, a global talent solutions and consulting firm. Justin joined Vaco 16 years ago, when the company was in its infancy and had $90 million in revenue. Today Vaco has $1.5 billion in revenue globally with offices in Canada, India, Mexico and the UK. Justin is a native Memphian, graduated high school from ECS and then graduated college from Mississippi State University.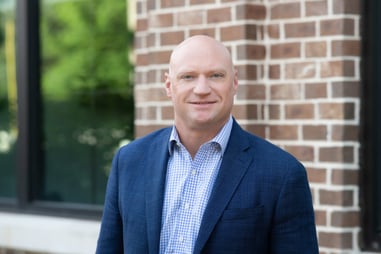 Justin helped build the Memphis office of Vaco, which today has 28 employees. It's one of 43 Vaco offices around the world. The company provides strategic staffing – contract, contract-to-hire, direct hire – consulting services, executive search and managed services to local, national and international businesses of all sizes. Vaco has specializations in IT, risk, compliance, cybersecurity, data management, accounting, finance, supply chain, HR and operations.
Vaco traditionally hired accountants and IT professionals to recruit talent for clients, and Justin was originally hired to develop business and tell the Vaco story. But when executives Vaco had placed earlier in their careers started asking for help recruiting for shared services and administrative positions, Justin was tapped to start the staffing division, which is one of the biggest contributors to Vaco's revenues today.
"Our flagship divisions are IT and accounting, but with our staffing division, we can support and partner with any sized company," he said. "Every single company that exists could use our services." Justin said Vaco has worked with virtually every business that's a household name in Memphis.
This is not the career Justin originally envisioned. He attended Mississippi State because at the time it was one of only three universities that offered a professional golf management program. Justin changed course and graduated with a double major in marketing and finance.
"Where I started is vastly different than where I ended up," he said. He started his career in the wholesale mortgage industry. When the mortgage industry imploded in 2007, he found himself looking for a different career. His older brother was friends with Brian Waller, the CEO for Vaco Global. Brian connected Justin with Kirk Johnston and the rest, as they say, is history.
Justin says he can do his best work by developing deep relationships with clients. "I work to find the best solution for a company's talent needs by getting to know my clients and how they run their businesses," he said. "The culture and heart of a company are just as important as the position they are trying to fill. Matching the right skill set and finding a culture fit are the keys to a lasting partnership."
Vaco supports the community through organizations including Porter Leath, Streets Ministries, St. Jude, the Chamber's Young Professionals Council, Financial Executives International, New Memphis Institute, Society for Human Resource Management, Memphis Business Journal CFO of the Year Awards, World Trade Club, ISACA, Institute of Internal Audit Memphis chapter, Tennessee Society of CPAs, Volunteer Memphis and Memphis Soul Prize.
Justin and his wife, Amanda Farmer, have one son, Grayson Farmer, who is a junior at Briarcrest. Grayson plays varsity and AAU basketball, and Amanda owns an insurance company, A&S Solutions.
Justin enjoys hunting, fishing and golf. The family enjoys hiking in Western states like Colorado, Montana and Wyoming. And like just about everyone in Memphis, Justin says, his family enjoys going to the beach.
Justin's father, who owned a business in West Memphis, is Justin's mentor. Justin said the book "The Purpose Driven Life" by Rick Warren, which he's read more than once, helped him focus on things that matter in life.
About the Chairman's Circle: The Greater Memphis Chamber Chairman's Circle is a group of more than 160 C-suite business leaders working to spur economic growth, develop the workforce, and improve the business climate throughout the region. Learn more about the group and its task forces here and follow the Chairman's Circle on LinkedIn.