Jack Straton is the Chief Financial Officer for Stratas Foods LLC, a supplier of fats, oils, mayonnaise, dressings and sauces to foodservice, food ingredients and retail private label markets in North America. Stratas operates two facilities locally --- a corporate headquarters on Goodlett Farms Parkway in Cordova and a research and quality center in Bartlett --- plus 8 manufacturing sites spread throughout the U.S. Jack says innovative ideas germinate in the Bartlett facility, where researchers develop new products, and invite customers to test their oils, dressings, and sauces.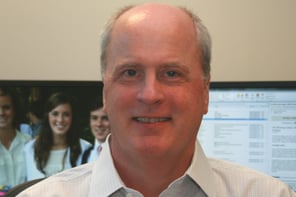 Employees with Stratas Serves are provided opportunities to support local charitable organizations that focus on feeding families; ensuring neighborhoods are healthy and safe; and helping children receive the best possible education. Stratas employees have volunteered with the Boys and Girls Club, Junior Achievement of Memphis, and the Mid-South Food Bank.
Raised in Beckley, West Virginia, Jack graduated with a Bachelor of Engineering/Civil Engineering degree from Vanderbilt University. He worked as an engineer for Chevron Oil Company in Louisville, KY, for a couple of years. After getting his MBA from Harvard Business School, he took a job in Dallas, TX, with Trammell Crow in their commercial real estate group and became president of their group focused on agribusiness investments. When that business was sold to Memphis-based ACH, he moved here to run the business. He played a variety of roles and did quite a bit work in mergers and acquisitions before Stratas Foods was formed in October 2008 as a 50/50 joint venture between ACH Food Companies (ACH) and Archer Daniels Midland (ADM).
Jack and his wife Cindy are empty nesters with three adult children and two golden retrievers. They love to travel and have several trips on the books in the next twelve months including Italy and Antarctica. An avid reader, his reading material is split between business-related books, articles and magazines, and spy novels. When he needs a break from work, Jack enjoys volunteering: he's currently treasurer at Church of the Holy Communion and in the spring, his evenings are busy coaching 7th and 8th grade lacrosse at Memphis University School.