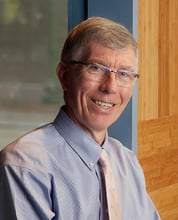 Harry Pratt, III is President and Chief Executive Officer of Allen & Hoshall, a full-service architectural-engineering firm with over 105 years of experience in the Mid-South.
Since 1915, Allen & Hoshall has worked with a wide range of clients. The firm's handiwork touches a variety of projects around Memphis and Shelby County including the Memphis International Airport and the FedEx Hub as well as award-winning projects such as the Main to Main Multi-Modal Project including Big River Crossing and the Methodist University Hospital Shorb Tower.
Pratt joined the firm in 1975 when there was only one office located in midtown Memphis. Today Allen & Hoshall has some 100 employees located across seven offices in Tennessee and Mississippi.
With strong roots in Memphis, Harry has dedicated his career to Allen & Hoshall and was elected President of the employee-owned company in 2015. He is Allen & Hoshall's senior aviation engineer and one of the top airfield engineers in the country, having managed over 100 FedEx projects at the Memphis International Airport and throughout the United States. Other noteworthy roles include serving as the Technical Program Manager of the Main Street to Main Street Multi-Modal Connector Project and Project Manager for the Memphis Fairgrounds Redevelopment Project.
He received a Master of Science degree in Civil Engineering and an MBA degree from the University of Memphis and a Bachelor of Science degree in Civil Engineering from Christian Brothers University.
Highlights of his career include serving on the Dean of Engineering Advisory Board at Christian Brothers University and the Civil Engineering Advisory Board at the University of Memphis and as an adjunct engineering professor at the University of Memphis.
---
The Chairman's Circle is made up of local leaders whose investment in the Chamber drives transformational change in Memphis. With more than 100 members representing more than 100,000 employees, members of the Chairman's Circle use their collective strengths as community and business leaders to create a clear path to positive change in Memphis and the Mid-South.
Interested in leading transformational change in our community?
Find out how your investment in the Chairman's Circle can help us #MoveMemphisForward.