Eric Epperson is Senior Director and Chief of Staff, Global Communications and Corporate Marketing, at Medtronic PLC. Medtronic, the world's largest medical device company, develops a range of devices from stents and pacemakers to brain implants and insulin pumps.
He joined the Medtronic team in 2012 as Senior Director, Public Relations and Communications, for the Spinal & Biologics division. He moved to the corporate side of the business in 2015. In 2021, Eric played a key role as the company reimagined its operating model and announced a move to expand in Memphis with the creation of a 1 million-square-foot manufacturing and U.S. distribution center on Airways Boulevard. That's in addition to the company's existing Spinal and Biologics division based in Memphis, which employs about 900 people in marketing, and research and development, and other administrative support functions.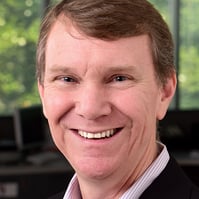 Eric says beyond creating cutting-edge health care technology, Medtronic looks to invest in programs which increase access to basic healthcare for those who are uninsured or under-insured. In Memphis, the company has supported and partnered with Christ Community Health Services and Church Health, where many of their employees also volunteer.
A South Louisiana native, Eric has spent his entire adult life in Memphis. After graduating from Ole Miss with a BS in Journalism and Advertising, he landed a job at AutoZone where he eventually was named Director of Communications. Eric says he's had the great fortune of working for four amazing Memphis companies with visionary CEOs. After 10 years at AutoZone, he moved into communications roles at FedEx and later Pinnacle Airlines, before joining Medtronic.
Eric and his wife Susan have two children. His son is graduating from the PT program at UTHSC next month and has decided to start his career in Memphis. His daughter is attending Kenyon College in Ohio. Eric is an avid mountain biker and rides every chance he gets along the Wolf River Greenway. Susan joins him on biking vacations where they explore trails across the country.
In 2013 Eric published a memoir. Our Home, Our Team tells the story of a train trip Eric took to NOLA with his father, a diehard Saints fan and long-time season ticket holder, and his young son, to see the Saints play. He says the multi-generational trip was a "treasure to experience with my dad and son."