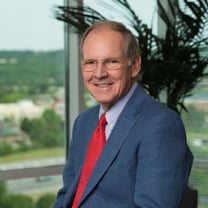 David Andrews is the Principal and Chief Executive Officer of City Enterprises, LLC. City Enterprises is the managing company of several owned businesses, many auto-related, including City Auto Sales, Chief Automotive Group, Pace Financial, City Auto Finance, and Dealers Auto Auction Group. He launched City Auto Sales over 35 years ago. Since then, he has grown the business to seven auction sites, multiple franchise & used car showrooms, eight City Auto Finance branches, and a nationwide forwarding company.

City Enterprises, LLC managed companies employ more than 850 people. Andrews says his employees are like family. He believes in rewarding employees who work hard with performance-based pay. Andrews points out, they take care of customers, just like they take care of their employees, and if they are doing their job right, customers should feel like buying a car is fun.

He is constantly seeking ways to improve and expand his business model and he continuously adjusts his goals and challenges his managers to reach these goals.

"The ability to operate and manage a business is truly a gift," Andrews says. "I have never considered going to work as work. The relationships that we build are part of the fabric of our lives. There are so many ways to enjoy your profession such as working with your team and developing a business from concept to a successful operation. Another important aspect of building a business is that it allows for the creation of many jobs for employees to support their families."

He says City Enterprises, LLC is focused on making a difference: for their employees, customers, and their communities. At the end of the day, he hopes he made a difference.
---
The Chairman's Circle is made up of local leaders whose investment in the Chamber drives transformational change in Memphis. With more than 100 members representing more than 100,000 employees, members of the Chairman's Circle use their collective strengths as community and business leaders to create a clear path to positive change in Memphis and the Mid-South.
Interested in leading transformational change in our community?
Find out how your investment in the Chairman's Circle can help us #MoveMemphisForward.