Dan Weddle is the President & CEO of ProTech Services Group, Inc. The talent acquisition and technology services firm is celebrating its 30th anniversary this year. When first founded, the company focused on IT staffing. It later expanded into offering IT support services, a side of the business which has grown dramatically. With 115 employees, ProTech is now one of the largest IT support teams in the region. Their clients are some of the most prominent companies headquartered in Memphis, such as FedEx, The Juice Plus+ Company, IMC Companies, and several smaller companies.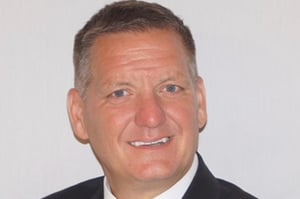 Dan joined ProTech in 2005 with a background in managing big projects and programs for a company that did IT repair and logistics. He says ProTech's main goal is to help companies use technology to drive their business forward. He emphasizes that ProTech is more than a vendor. His team builds a relationship with each customer to understand a company's needs and propose solutions. Being a good corporate citizen is key to Dan. "Giving back to our community is a very important part of our core values and culture. ProTech employees are encouraged to take up to two paid days each year to volunteer for a non-profit of their choosing."
Dan moved to Memphis from Milwaukee - when his father transferred here for work - in his junior year of high school. He graduated from ECS and the University of Memphis. Years later, a friend set him up on a "blind date" with Mikki, a former ECS classmate. This year, Dan and Mikki are celebrating their 30th wedding anniversary. They have three sons and two grandchildren. After a fourth son was killed in a car accident, his family formed The PEYitforward Foundation in Peyton's honor. The non-profit dedicates itself "to spreading love to all, giving back to local communities, and encouraging others to choose kindness over hate every single day." A scholarship has been established in Peyton's honor at the University of Memphis, and this fall, they'll add a golf tournament.
Dan loves Memphis and describes it as a city with tons of potential. "More people need to figure out how to make Memphis better and quit trying to compete with Nashville." He is excited about what the Greater Memphis Chamber is doing under Chief Economic Development Officer Ted Townsend. He feels there is a solid plan to attract new companies. "I am proud to be part of the Chairman's Circle. It will take all of us working together. Ted's job is to bring companies to the table, and then more of us need to step up and help close the deals."
Dan and his family enjoy spending time on Pickwick Lake and relaxing by boating and hiking on weekends. He also enjoys golfing and spending time outdoors working in his yard.