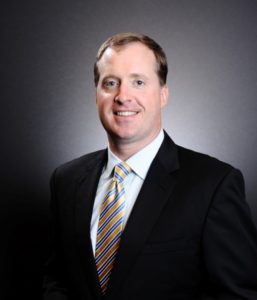 As director and shareholder at the firm Martin Tate, attorney Clay Purdom works with commercial real estate owners and lenders and advises clients on everything from acquisition to construction of properties. Quite naturally, he was attracted to the Chamber of Commerce's work with economic incentives and easing the recruitment of businesses, but it was the all-around momentum of the organization that prompted him to get involved in the Chairman's Circle.
"We were excited about what was going on … and wanted to help," said the Kentucky native and University of Mississippi graduate.
Purdom was hired by a certified public accountancy firm in Memphis after acquiring an undergraduate degree in accounting and a master's degree in taxation at Ole Miss. A few years later, he returned to the university's law school, graduating cum laude in 2005. "It made sense to come back to Memphis," he said. "I liked it here."
The avid salt water fly fisherman has been with Martin Tate for 14 years. He is also a board member and treasurer of Memphis Area Legal Services, an organization dedicated to providing free legal assistance and representation to local residents who cannot afford an attorney. Memphis Area Legal Services assists residents with various civil matters including Family Law, Fair Housing, Veteran Affairs and Elder Law issues.
Memphis is a pleasant place to work for some of the same reasons that make it a pleasant place to live. "I think of Memphis as a big small town," Purdom said. "You have the ability to know people and know what's going on … a great city to live, a great city to work in."
The Chairman's Circle is made up of local leaders whose investment in the Chamber drives transformational change in Memphis. With more than 100 members representing more than 100,000 employees, members of the Chairman's Circle use their collective strengths as community and business leaders to create a clear path to positive change in Memphis and the Mid-South.