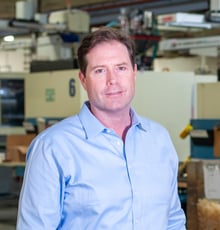 As the President of Pandrol North America, Breen Reardon is focused on his coworkers, his community, and growth for Pandrol, a global leader in railroad infrastructure. Reardon and Pandrol are excited to now call Memphis home after a recent strategic relocation of Pandrol operations from New Jersey to Memphis. Through Pandrol and in his personal life, Reardon is actively working to provide value to the local community while becoming an integral part of the vibrant culture of Memphis and the Mid-South.
Pandrol employs over 1,700 people in over 40 locations across the globe and produces products that are at the heart of more than 400 railways in over 100 countries. Part of the Delachaux Group, Pandrol has over 100 years of rich history in product development, engineering, and innovation in rail products. Reardon oversees 250 people in four strategically placed locations in North America: Memphis, Tennessee; Napoleon, Ohio; Quebec, Canada; and Mexico City. Pandrol's Memphis location annually produces over 35 million pieces that are used in rail infrastructure across North America. After helping to grow the company portfolio and putting Pandrol on a high-growth trajectory focused on strategic partnerships, Reardon, was humbled to be presented with the opportunity to serve as President of North American operations in 2015. Almost immediately after taking on the position, the rail infrastructure market changed dramatically. Since then, Reardon has led Pandrol North America through a major restructuring to consolidate businesses and improve the North American footprint.

Reardon has already connected with peers and resources in the Mid-South such as the University of Memphis and Moore Technical College to find synergies to create a pipeline of talent to fuel continued successful operations for Pandrol while providing opportunities for the Mid-South workforce. Reardon is excited to continue working with the local community, especially the Whitehaven community where Pandrol is located.

After living in the Midwest and Northeast for many years, Reardon, his wife, and two young children are enjoying being back in the South and in closer proximity to their extended family. He loves all athletics and tries to find time to golf but admits most of his free time is consumed enjoying time with his family and playing chase and tickle monster.

---
The Chairman's Circle is made up of local leaders whose investment in the Chamber drives transformational change in Memphis. With more than 100 members representing more than 100,000 employees, members of the Chairman's Circle use their collective strengths as community and business leaders to create a clear path to positive change in Memphis and the Mid-South.
Interested in leading transformational change in our community?
Find out how your investment in the Chairman's Circle can help us #MoveMemphisForward.